more news
NHSDF Brings High School Dancers from Around the World to Point Park's Downtown Campus
Friday, March 4, 2016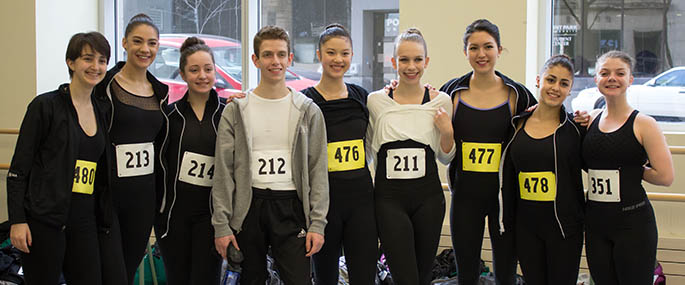 From Australia and Bermuda to South Carolina and California, 1,300 dancers from 78 high schools traveled from near and far to Downtown Pittsburgh for the 2016 National High School Dance Festival hosted by Point Park University.
"It's a huge gift for us to share this weekend with you," said Ruben Graciani, chair of dance, during the festival's opening ceremonies at the Byham Theater Thursday night. "Thank you all for being here. We are so excited to welcome you to Point Park and Downtown Pittsburgh."
Day one of NHSDF included festival registration, a warm-up class and the chance to audition in front of 40 colleges and universities for a spot in their dance programs or summer intensives.
"Auditioning for the recruiters was an amazing experience," said Annika Gadson, a junior at Charleston County School of the Arts in Charleston, S.C. "It was a little difficult trying to learn the routine so quickly, but I did it!"
Shayla Marshall, a junior at Bridgeprep Academy of Arts Minds in Miami, Fla., agreed.
"It was a stressful and fun experience at the same time," she said. "It was so cool to get to audition with dancers from all around the world."
Gaynell Sherrod, chair of dance at Virginia Commonwealth University in Richmond, Va., is excited for the opportunity to recruit talented students and network with other dance schools from across the country.
"I'm so glad to be here to recruit incredible talent, share best practices with dance professors and engage with the students," said Sherrod.
Following the auditions, festival participants enjoyed an opening ceremony at the Byham Theater, featuring performances by Point Park students and Parsons Dance Company. The evening concluded with a reception at the Wyndham Grand Pittsburgh Downtown.
NHSDF continues through March 6 with more than 200 classes led by guest artists and choreographers and a master class with Parsons Dance.

Watch for continuing coverage on PointPark.edu, as well as updates on Facebook, Instagram and Twitter. Share your NHSDF experience on social media using #NHSDF2016.
More About: dance, Conservatory of Performing Arts, Downtown Pittsburgh, jazz, ballet, National High School Dance Festival, international, George Rowland White Performance Center, modern