more news
'Our Lady of 121st Street' Features Lighting Design by Theatre Production Major Joshua Ice
Thursday, December 10, 2015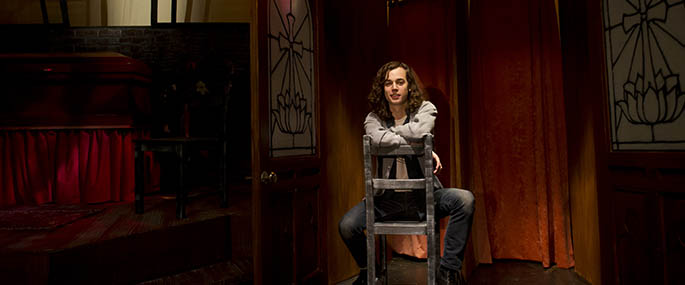 Meet Joshua Challen Ice
Current role: Lighting Designer
Conservatory Theatre Production: Our Lady of 121st Street, Pittsburgh Playhouse
Degree pursuing: B.F.A. in theatre production (design), 2017
Scholarships from Point Park: Artistic Achievement Award and an Apprenticeship (Playhouse electrics crew)
Hometown: Murrysville, Pa.
High school: Franklin Regional High School
Hobbies/interests: Drummer, The John Trumaine Show band
How were you selected as the lighting designer for Our Lady of 121st Street?
This position is an assignment given to me. Each semester, tech students are assigned to work on a show at the Pittsburgh Playhouse. In the past, I had various roles on Oklahoma!, Bloody Bloody Andrew Jackson, and Endless Lawns as light board operator, spotlight operator, assistant to the light designer and master electrician. These jobs gave me the experience I needed to carry out the design for Our Lady of 121st Street.
What are your key responsibilities as lighting designer?
As lighting designer, it is my job to portray the mood captured in the text into an atmosphere that the actors can play with. From a technical aspect, I choose the positioning, color and intensity for each light; creating the overall vision by adjusting those attributes.
This is your first lighting design of a play. How did your Point Park experience prepare you to overcome any challenges?
Through staff and mentors at the Pittsburgh Playhouse I was able to understand decisions made by others in the past; this gave me a clearer vision. The design process, for me, is a huge series of decisions. Such choices affect future options and outcomes. At times, it was difficult for me to keep track of my choices and their repercussions. Many of the problems I was faced with, other lighting designers have been faced with before.
What excites you the most about this role?
Specifically with this piece, I was excited that I could experiment with atmosphere. Most of the time, a lighting designer is asked to create realism, but this is not the exact case in Our Lady of 121st Street. Director Steven Wilson allowed me to have some fun and put a more personalized touch on the show.
Why did you choose to attend Point Park for your major?
The hands-on apprenticeship program intrigued me. The opportunity to learn a craft in a real-world environment was much more appealing to me than just learning in a classroom environment.
What are your career goals?
I am currently a musician in a local band, The John Trumaine Show, with other local artists and technicians. We plan to pursue careers in music, while incorporating our training as lighting designers, filmmakers and performance artists to expand our appeal to the public.
More About: Pittsburgh Playhouse, Franklin Regional High School, Conservatory Theatre Company, theatre production, design, scholarships