more news
Students Gain Hands-On Experience Crafting Set of 'Bloody Bloody Andrew Jackson'
Monday, March 24, 2014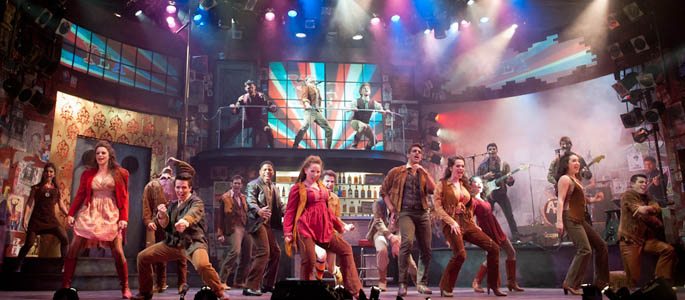 Conservatory Theatre Company presented Bloody Bloody Andrew Jackson at the Pittsburgh Playhouse. View photos.
Conservatory of Performing Arts students gained hands-on experience creating the complex set of Bloody Bloody Andrew Jackson at the Pittsburgh Playhouse. The musical, staged during the spring semester, reinvents America's seventh president as a contemporary rock star.
"To complement the raucous nature of the show, the set needed to display the time period in a fun and historical manner," said Michael Thomas Essad, scenic designer and adjunct instructor.
"When director Michael McKelvey and I spoke about this particular set, he said he wanted it to be like a rock-and-roll nightclub. I spent the better half of my 20s and 30s in rock-and-roll nightclubs like Country, Bluegrass and Blues in New York. After listening to the soundtrack of this show, I really felt that CBGB's was a perfect model for this set," said Essad.
The large and intricate set was also a moving set.
"I wanted the band stage on the set to be prominent in the first act and less in the second act, so we built it so that it could be moved back at intermission to open up the center of the stage," said Essad.
Several Point Park students worked with Essad to build pieces of the set.
John Forton, a senior majoring in technical theatre and design, said he takes advantage of all of the hands-on opportunities as a student.
"When beginning to technically design a show, the first thing I need to do is get the designs from the designer, and then I decide the best way to construct it," Forton said. "I get to bring the designer's vision to the stage to make their art become a reality."
Both Essad and Forton agreed that seeing the show when it's done makes all of their work worthwhile.
"It's sometimes terribly frustrating just like any career, but it's also a very exciting and rewarding thing to do," said Essad.
Photo Gallery
Click on photo to view gallery.
In the News
Text by Annie Tomak, a freshman public relations and advertising student.
More About: Pittsburgh Playhouse, theatre, Conservatory Theatre Company, theatre production, Conservatory of Performing Arts