more news
Point Park University Dance Students and Alumni to be Featured in Upcoming Commercial for Sheetz Convenience Stores
Friday, January 15, 2021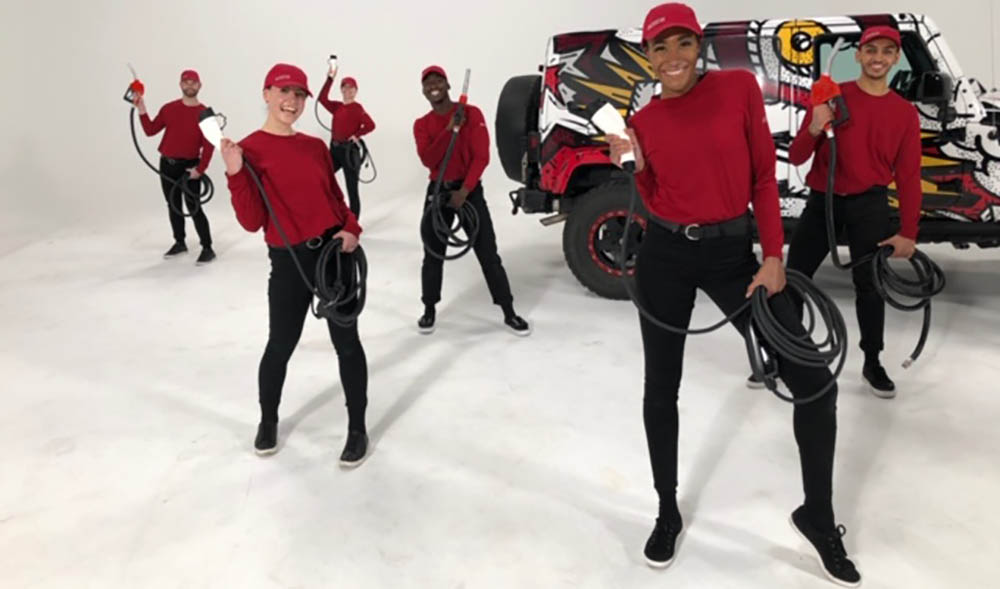 Point Park students and alumni on set of Sheetz Happy Place commercial
"Our students are professional-quality dancers, so I saw this as an incredible opportunity for them to obtain hands-on experience and earn a television commercial credit. Sheetz is a well-known brand in our region, so it was an especially fun and exciting opportunity for us."
Professor Kiesha Lalama, M.F.A.
The talents and skills of Point Park University dance students and alumni will be featured in an upcoming regional commercial for Sheetz convenience stores.
The commercial, Sheetz Happy Place, created by the Charlotte, North Carolina-based Fourth Ward Productions, was rehearsed and filmed over four days last December.
Kiesha Lalama, a professor in Point Park University's Conservatory of Performing Arts, worked with the production team to cast and choreograph the commercial which included 15 current Point Park student dancers and musical theatre majors and five alumni.
"Our students are professional-quality dancers, so I saw this as an incredible opportunity for them to obtain hands-on experience and earn a television commercial credit," said Lalama. "Sheetz is a well-known brand in our region, so it was an especially fun and exciting opportunity for us."
Sheetz stores are a family-owned company with 500 locations throughout six states. Sheetz Happy Place is slated to run this spring.
Point Park University is an accredited institutional member of the National Association of Schools of Dance.
More About: dance, musical theatre, faculty, Conservatory of Performing Arts