more news
Point Park's Dance Program Prepares Student for Giordano Dance Chicago Mentorship
Tuesday, June 27, 2017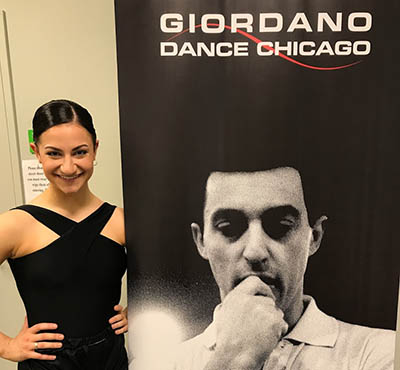 Meet Gianna Annesi
Mentorship program/summer intensive: Giordano Dance Chicago
Major: Dance (jazz concentration)
Expected graduation: December 2017
College activity: Dance club
Hometown: Syracuse, N.Y.
High school: Cicero-North Syracuse High School
Hobbies/interests: Musical theatre, kickboxing, having fun!
How did you discover your passion for dance?
I don't think I ever really discovered my passion for dance. It was always just a part of who I was ever since I can remember. All of my baby videos are of me dancing to CATS or Mary Poppins. I would get so upset when I couldn't get my legs as high as the girls on the video. Probably because my diaper was in the way!
Why did you pick Point Park University to study dance?
I picked Point Park University for many reasons. The alumni accomplishments are top of the line, the professors are so amazing, the program has the rigorous schedule that I wanted and the facilities are simply gorgeous! When I auditioned, it simply felt like a perfect fit.
How is your Point Park experience preparing you for your future?
As I have started to venture out anticipating my last semester of college, I have felt beyond prepared at auditions/classes outside of the Point Park community. I don't think you realize how ready you are until you actually get out there. Between the rigorous training and the faculty who help you find your own path, you are leaving with so much in the bag. I feel so confident taking on this industry after studying at Point Park.
Tell us what you're doing at Giordano.
I am a member of the Giordano Dance Chicago mentorship program. Nan Giordano set me up with a member of the company to basically guide me through the year and help figure out my own potential path with the company. It is for students in college who have a strong interest in pursuing a career with Giordano Dance Chicago, and the mentors are wonderful people who really take an interest in helping you get where you want to be! My mentor, Katie Rafferty, has been so amazing to work with. We are always keeping each other updated on our lives and it has been such an honor to get to know her! Not only have I gained so much knowledge from her, but I have also gained a lifelong friend.
Do you have advice for a student considering Point Park?
The best piece of advice that I received here and would pass along to anyone is to trust the process. Everything truly happens for a reason and even if you don't realize it now, you will in the future. There have been so many lessons I learned years later but perseverance is key. Lastly, get ready to WORK! If you are fully committed to going into this field, Point Park will absolutely get you where you want to be.
Is there anything else you would like to add?
Being a student at Point Park University has not just given me an education, but it has given me a lifelong family. There is nothing like going to a class or an audition somewhere and meeting former Point Park students. It is a true honor to have that name on my resume and I only hope the future students of the University will have the same incredible experience that I have had.
Additionally, my experience with Giordano Dance Chicago has been so special. They have welcomed me with open arms and hearts into their family through the mentorship program. If it wasn't for Point Park University, I don't think I would have found this beautiful place!
More About: dance, George Rowland White Performance Center, faculty, jazz