more news
Sesame Street Live Features Alumnae Alexandra Zegar and Eileen Janesz
Monday, February 23, 2015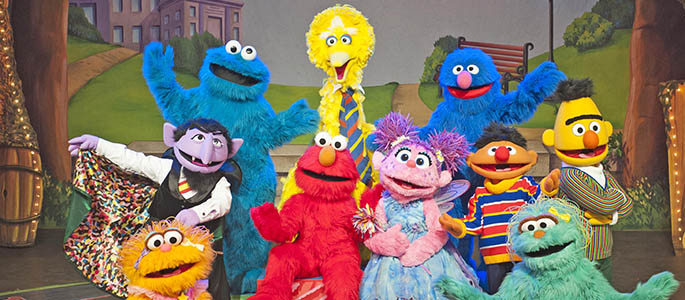 Alumnae Alexandra Zegar (Count Von Count) and Eileen Janesz (Elmo) with the cast of Sesame Street Live.
Conservatory of Performing Arts alumnae Alexandra Zegar and Eileen Janesz are on tour with Sesame Street Live: Make a New Friend. Zegar landed the role of Count Von Count and Janesz plays the role of Elmo. Below, the alumni discuss how the education and training they received at Point Park prepared them for professional success.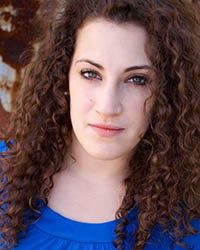 Eileen Janesz
What factors made you choose Point Park?
I was recommended by a friend who attended Point Park for musical theatre. She had an extremely positive experience her first year of college. After I auditioned, I remember how personable the faculty were and how invested they were in having me as a part of their program. I chose Point Park because the faculty made me feel excited to explore my talents and grow as a person on and off the stage. - Eileen Janesz, B.F.A. in musical theatre, 2014
What was it like going to college in Downtown Pittsburgh?
I loved going to school in Downtown Pittsburgh! I was within walking distance to the Cultural District, Market Square and Point State Park. There was always something fun to do in the city. I'm also a huge Pittsburgh Penguins fan and loved the proximity of Consol Energy Center to campus. - Alexandra Zegar, B.A. in dance, minor in mass communication, 2014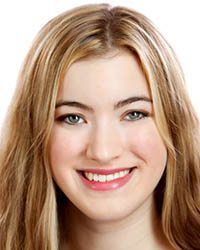 Alexandra Zegar
What classes prepared you for your career?
Musical Theatre Techniques was one of the best courses because I discovered a more mature appreciation of the profession. I learned the skills of acting within a song and motivations of a character. The class was extremely challenging but it challenged me and pushed me as a student and as a performer. - EJ

What's one of the most beneficial experiences you had as a student?
Ron Tassone's classes helped me the most with learning to pick up choreography quickly and how to perform. In the professional dance world, you have a limited amount of time to learn your show and you have to be able to pick up choreography quickly and pay attention to detail. I would also like to thank all of my dance teachers who helped to shape my experience at Point Park! - AZ
What's it like performing in Sesame Street Live?
It's incredible! The energy of the kids always makes me feel like a rock star! - EJ

What's your advice for a prospective student?
Don't get caught up in comparing yourself to another student. Treat each class as a way to work on your skills. Don't be afraid to ask your teachers for help and enjoy each and every performance. Take difference styles of classes, but don't be afraid to focus on the style that you love the most. - AZ
Why would you recommend Point Park?
Point Park provides students the opportunity to grow. There's an extremely eccentric group of students that allows anyone to find the right group of friends. - EJ
More About: musical theatre, dance, Conservatory of Performing Arts, Downtown Pittsburgh, theatre, success story