more news
Student Spotlight: Lauren Gerlowski, Dance and Global Cultural Studies Double Major
Thursday, July 27, 2017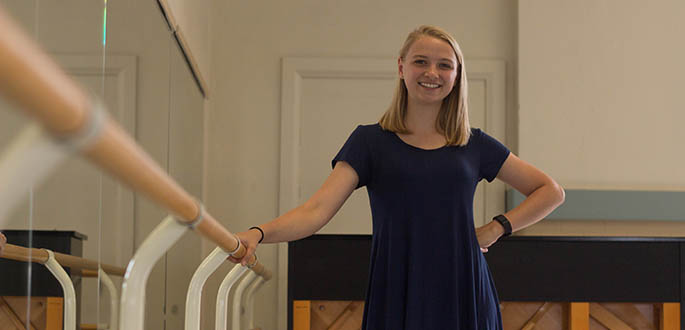 Meet Lauren Gerlowski
Double majoring in: Dance (B.F.A.) and Global Cultural Studies (B.A.)
Expected graduation: Spring 2018
Internship title and employer: Administrative Intern at the Dance Conservatory of Pittsburgh
Independent study topic: "Racial Capitalism by Means of Studying the Black Radical Tradition"
College activities: Dance Club, Undergraduate Student Affinity Group at the American Association of Geographers and the Honors Program
Scholarship from Point Park: Artistic Achievement
Hometown: The Woodlands, Texas
High school: Keystone Online High School
Hobbies/interests: Hiking, camping, reading, playing guitar, backpacking, traveling, spending time with friends and family
Why did you choose to double major in dance and global cultural studies?
Dance has always been my passion. As I completed my first year pursuing a B.F.A. in dance (modern concentration) at Point Park, my love for academics took off and I began looking for another challenge. So, I took the Introduction to Global Cultural Studies course and immediately knew this was the right fit.
As an artist, I have always been inclined to create dances about injustices happening in the world. I want my art to have an impact on people and places. The GCS program is humanities-based, cross-disciplinary and triggers critical thinking about the complexities of the world. In short, the program is a space where I can study what I want my art to be about. My passion grew and I declared my second major pursuing a B.A. in global cultural studies.
"Lauren's demonstrations in thought and action are the product of integrated learning. She constantly challenges herself to understand perspective as an iterative process in which ideas and reality have the possibility to grow fruit. She takes this workable knowledge with her and shares it."

-- Danielle Pavlik, co-director, Dance Conservatory of Pittsburgh

---
Related Links
---
"It is a pleasure to be working with Lauren on her senior thesis. She is doing everything you would want a student to do with undergraduate research: applying much of what she has learned in the classroom to her original research, investigating a topic of considerable social relevance and making a valuable contribution to the academic literature.
"
-- Robert Ross, Ph.D., Associate Professor of Global Cultural Studies

---
Tell us about your role with Dance Conservatory of Pittsburgh.
I am going into my third year of teaching young artists at the Dance Conservatory of Pittsburgh. I teach dancers of all ages (3-18), and help them develop their own artistry while refining their technique. My main goal as a teacher is to show students why dance is important to our society by leading intelligent discussions in-and-out of the studio.
This summer, the Dance Conservatory of Pittsburgh has been preparing to move studios. Besides typical registration duties, many of the projects for my internship have been dedicated to preparing for this move.
Tell us about the independent study you are doing in preparation for your senior thesis.
The independent study that I'm working on with Associate Professor Robert Ross, Ph.D., is "Exploring Racial Capitalism by Means of Understanding the Black Radical Tradition (Black Marxism)." In this study, I have furthered my understanding of the world and capitalism's forces on marginalized groups.
My senior thesis is exploring the beginnings of neoliberalism in New York City in the 1970s. As of now, I do not plan on touching on racial capitalism in my thesis. But the independent study has prepared me with self-initiated learning. This will be very important as my thesis will consist of primary research.
In what ways have you grown as a result of your internship and independent study?
I grow more and more every day from my independent study and internship. My independent study connects dots in fields I have been introduced to in many GCS courses. My internship teaches me the many administrative and management duties it takes to run a successful studio. Above anything else, this summer, time management has been reinforced as a priority (it has been difficult balancing work on my own time while trying to take advantage of the beautiful summer months in Pittsburgh).
How have the dance and GCS faculty impacted you?
Words do not do justice for the gratitude that I have for the faculty who have mentored me. I have had so many opportunities in both departments thanks to my professors. These include teaching dance, attending the American Association of Geographers' annual meeting and presenting at the Undergraduate Research Student Symposium.
What are your career goals?
My career goals are continually evolving and becoming more refined, but as of now I am interested in pursuing my graduate degree in the field of geography. I hope to one day complete my doctorate and be a geography professor. I envision myself continuing to contribute to the profession of dance through choreographing, teaching and mentoring our youth, and aspiring professionals by sharing my love of this art form.
Is there anything else you would like to add?
I cannot reiterate my gratitude for my Point Park University. I have been presented with amazing opportunities from faculty members and students alike. I truly love Point Park.
Photo by Annie Brewer, junior cinema production major
More About: faculty, Honors Program, internships, modern, scholarships, Conservatory of Performing Arts, dance