more news
Students Find Inspiration at Animation Director John Dilworth's Lecture
Tuesday, April 8, 2014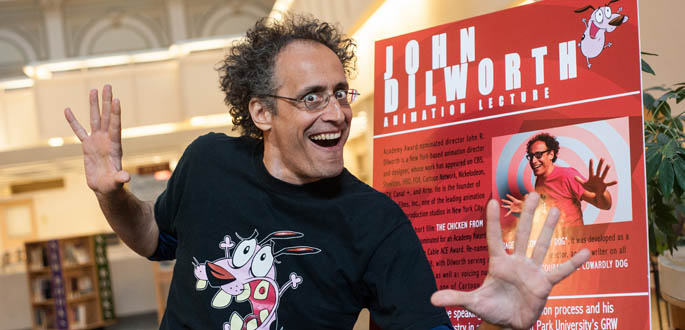 Animation director John Dilworth in the University Center.

The Department of Cinema Arts hosted Academy-award nominated animation director John Dilworth in the GRW Theater on April 5. The event welcomed nearly 65 students, faculty and guests.
Photo Gallery
---
Related Links
Conservatory of Performing Arts
Conservatory Requirements
Apply Online Free
Request Information
"Being able to see successful people in the industry is very helpful," said Chris Dresliszak, a sophomore animation and visual effects major. "It's inspiring and it gives us motivation."
Dilworth began the event by showing his original short film, "Courage the Cowardly Dog," an animation series that went on to become one of Cartoon Network's top-rated shows. He explained the difference between the original episode, released in 1995, and the final show that aired in 2004.
His work has also appeared on many major networks, including CBS, Showtime, and Nickelodeon, and he is the founder of Stretch Films, Inc., an animation studio in New York City.
During the lecture, Dilworth provided insight into his career in animation by presenting his work and explaining his creative process.
Students in attendance were given the opportunity to ask questions following the presentation. When asked why Dilworth got into animation, he said, "one day I was drawing, and it seemed limited, so I wanted to see it move."
Point Park students said that Dilworth's presentation was educational and inspiring.
"The animation and visual effects program is amazing," said sophomore animation major Jessica Mendel. "Seeing successful animators brings it all together and helps us to build confidence."
Text by Abigail Mathieu, a senior double majoring in journalism and public relations and advertising
More About: animation and visual effects, guest artists, animation