more news
Troy Centofanto Recruits Top Talent for Point Park's Conservatory of Performing Arts
Tuesday, September 6, 2016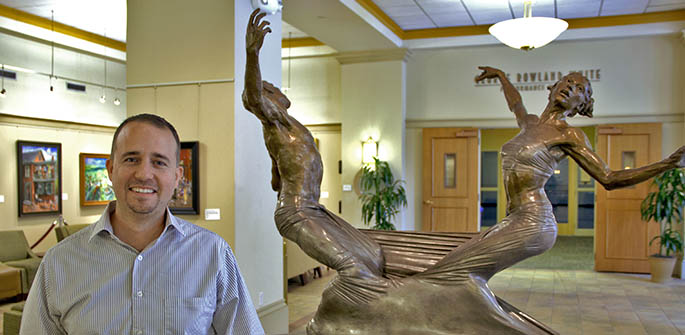 Western Pennsylvania native Troy Centofanto, director of artistic recruitment for the Conservatory of Performing Arts at Point Park University, has a B.M. in music technology and an M.M. in composition and theory from Duquesne University. Prior to joining the recruitment office at Point Park, Centofanto was the director of music admissions and an assistant professor of music technology at Duquesne. Centofanto is also a bassist and a composer. His chamber music works have been performed by members of the Pittsburgh Symphony Orchestra and Buffalo Philharmonic Orchestra. As a bassist, he has performed live, on-air on WDVE 102.5 with several different acts, including Nashville artist (former Pittsburgh native) Anthony Rankin, and currently performs with local blues artist Melinda. In his spare time, Centofanto enjoys spending time with his wife and two sons, and is an avid fly fisherman and hunter.
What interested you the most about the director of artistic recruitment position?
Point Park University's Conservatory of Performing Arts is one of the top conservatories in the country. Having the opportunity to work with the current and future leaders of the industry is very exciting and rewarding.
"Having the opportunity to work with the current and future leaders of the industry is very exciting and rewarding."

-- Troy Centofanto, M.M.

---
Related Links
What are some of your key responsibilities?
Recruiting the top, future performers and professionals of the industry is definitely a key responsibility. In order to achieve this goal, the (COPA) recruitment office manages and coordinates more than 1,000 in-person auditions every year, nationwide. As the director of artistic recruitment, I have the pleasure of personally assisting these students and their families throughout the entire admission process. From inquiry to audition to matriculation, we help students and families navigate the artistic review process through individual consultations, audition scheduling, tours of our facilities, phone calls, emails, etc.
What are some common questions/concerns you hear from prospective students and parents?
Probably the most common questions we receive are regarding the audition or interview process. Applicants to the Conservatory are very attentive to the artistic decision process and will inquire extensively about the requirements in order to thoroughly prepare for their audition or interview.
What is your advice to a prospective student interested in pursuing a degree in dance, theatre or cinema arts at Point Park?
Performing and visual arts is easily one of the most competitive professions out there. Here at the Conservatory, we are training the future performers and professionals of the industry. Therefore, I often challenge prospective students to carefully consider their future profession, take ownership of their goals, and advise them to make sure that their ambitions align with our program's offerings. I believe it's imperative for a prospective student to find the right program in order to provide themselves with the greatest chance of success for such a competitive field.
How would you describe the audition and interview process to a prospective student?
The audition or interview process for the Conservatory is a day of discovery for prospective students and their families. It's a welcoming and informative environment, where students have the opportunity to demonstrate their abilities and potential during their audition or interview, ask the faculty and staff questions about their respective program, tour the campus, and even attend a Conservatory performance at the Pittsburgh Playhouse.
Photo by Shayna Mendez, a senior photojournalism major
More About: cinema arts, ballet, technical design/management, screenwriting, Conservatory of Performing Arts, modern, stage-management, animation, Pittsburgh Playhouse, cinema production, acting, animation and visual effects, theatre, dance, jazz, musical theatre