more news
Versatility of Point Park's Dance Program Prepares Ahmad Simmons for Broadway
Monday, July 17, 2017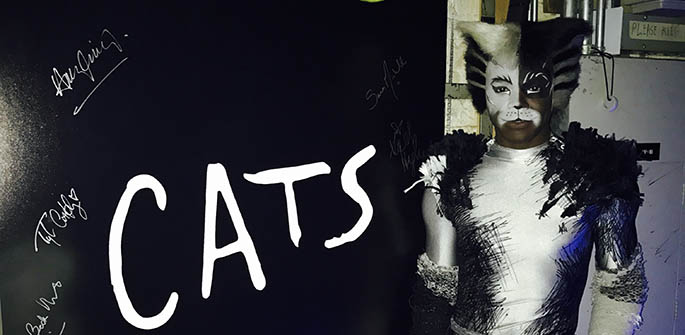 Meet Ahmad Simmons
Current role: Alonzo, CATS on Broadway
Degree earned: B.F.A. in Dance, 2010
Hometown: Fort Worth, Texas
High school: Fort Worth Academy of Fine Arts
Now living in: New York City
How did your Point Park University experience prepare you for your career?
I am so lucky to have had the foundation of Point Park's dance training. It has allowed me to thrive in so many areas of the arts industry and continues to keep me relevant as a performer.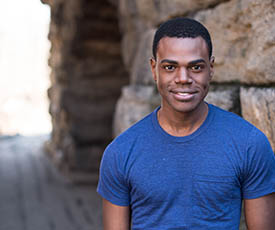 What is one of the most important lessons you learned at Point Park?
The greatest thing I learned from the program is how to stay valuable in a career that is always changing. I tell students everywhere I go that you have to have an unshakable base of technique and an undeniable sense of self, style and individuality. All of which was embedded in me throughout my four inspiring years at Point Park.
Who inspired you at Point Park?
I carry the lessons of my teachers Doug Bentz, Judith Leifer-Bentz, Jason McDole and Kiesha Lalama everyday. They are gems. They prepared me for this crazy thing called life as an artist.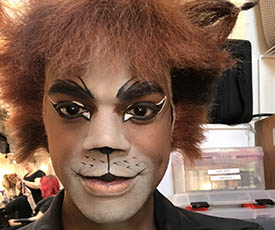 Tell us about your career path to Broadway.
Eisenhower Dance
Immediately after graduating from Point Park's Conservatory of Performing Arts, I moved to Rochester, Mich., to join Eisenhower Dance, a contemporary dance company.

Eisenhower toured seven of the 10 months I worked for them. It was an incredible way for me to learn exactly what it meant to be a concert dancer in a touring company. The company was only six main dancers with a few apprentices, so I was also able to dance hard and often. Laurie Eisenhower - founding artistic director and choreographer - and I still have a wonderful relationship. I'm currently one of their guest choreographers.
River North Dance Chicago
"I am so lucky to have had the foundation of Point Park's dance training. It has allowed me to thrive in so many areas of the arts industry and continues to keep me relevant as a performer."
-- Ahmad Simmons

---
Related Links
Towards the end of the season at Eisenhower, a friend and Point Park alumnus suggested I look into an opportunity with River North Dance Chicago. I was very familiar with the company since I had received a scholarship to attend their summer intensive. Having that connection and foundation laid, I decided to go for it. I moved to Chicago a month later and stayed with the company for four incredible seasons.
Parsons Dance

In 2015, I decided I was ready for a big change of pace. I had always loved musical theater. I grew up performing in musicals in my arts high school and went on to perform in a dozen shows at the Pittsburgh CLO during my college days. Already a member of Actors' Equity Association, I was ready to hit the Big Apple and take Broadway by storm, until another wonderful opportunity came into view: Parsons Dance in New York City was auditioning. This was my dream company in college and I could not pass up this opportunity!
Alumnus Ian Spring had been there for four years and was my in to taking company classes before auditioning. I was able to really get to know the company from the inside. The audition was one of the hardest dancing days of my life. Live music, tons of people and explosive energy. After dancing my way through cuts and callbacks, Artistic Director David Parsons invited me to join the company for their 2015-16 season.
CATS and Dirty Dancing
February 2016 would be the most impactful month of my life. This was the month I met Choreographer Andy Blankenbuehler. It was also the month I auditioned for both CATS and ABC's remake of Dirty Dancing. He choreographed both. He hired me for both. My life hasn't been the same since!
What's it like performing in CATS?
CATS has been my dream since watching the VHS on repeat while in high school. The open call had more dancers in a room than I've ever seen. I went through about three callbacks before finally getting the offer to play Alonzo, understudying Rum Tum Tugger and Plato/Macavity. Ironically, the same role that got me my Equity card back in Pittsburgh.
What was it like performing in the remake of Dirty Dancing on ABC?
Dirty Dancing was actually such a surprise to me. I felt great about the audition but was unavailable for the only callback they had scheduled because of a prior commitment. I was sure that was the end until I got a call saying they wanted to direct book me as one of the principal dancers! Three months later, I was on set in North Carolina. I literally had "the time of my life" doing this project. Though the hours are super long on set, the process is so exciting. Its zero to one hundred percent in a matter of seconds! Every frame, every angle ... it all counts! And, it's forever.
More About: dance, alumni, faculty, success story, Conservatory of Performing Arts