more news
World Cultures Dance Week Exposes Students to a Variety of Styles and Techniques
Tuesday, December 1, 2015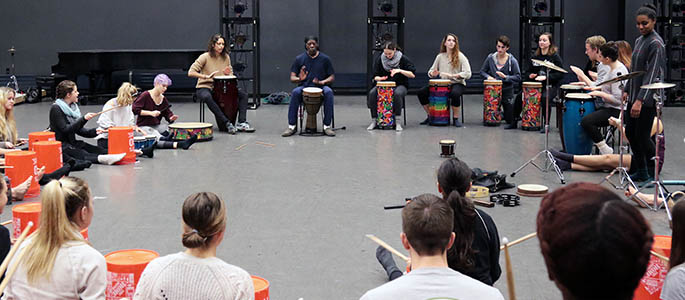 Charles Hall leads a West African Drumming class in the George Rowland White Performance Center.
Irish Step Dancing, West African Drumming, Buddhist Meditation and Salsa.
Point Park dance students got to experience all of those and more at the annual World Cultures Dance Week, put on by Point Park's Dance Club, co-chaired by students Lauren Gerlowski and Allison Riley.
"World Cultures Dance Week teaches us how and why other cultures use dance," said Gerlowski, a sophomore double majoring in dance and global cultural studies. "This week was so exciting for me because I got to experience my two majors come together."
Held during the fall semester, World Cultures Dance Week is a series of master classes led by guest teachers from the Pittsburgh community who specialize in dance techniques from around the world.

This year's lineup included:
Irish Step Dancing - Sheila Shovlin
Chinese Mongolian Dancing - Shan Cui
West African Drumming - Charles Hall
Buddhist Meditation - Rev. Kotoku Ray Crivello
African Dance - Kadiatou Conte-Forte
Indian Dance - Steel City Bhangra
Flamenco - Carolina Loyola-Garcia
West African Dance - Yamoussa Camara
Salsa - Michael Thornhill
"World Cultures Dance Week is an amazing experience that benefits us in so many ways," said Riley, a sophomore dance major. "Point Park is building a relationship with each guest teacher, and students are exposed to different dance styles while gaining knowledge about other cultures."

Senior Hailey Turek, president of Dance Club, has participated in World Cultures Dance Week four times.

"The thing that excites me the most about World Cultures Dance Week is the amount of involvement from students throughout the planning process, as well as the number of students in the classes," said Turek. "This week has become very loved by our entire department, and students and faculty look forward to this each year."

Added Riley, "I chose Point Park because of the diverse dance program. I feel like I am a more diverse dancer because of the training I'm receiving."
Video
More About: global cultural studies, George Rowland White Performance Center, guest artists, dance, Conservatory of Performing Arts, master class