more news
World Premiere of 'Soldier's Heart' Features Students, Alumni and Staff
Wednesday, September 18, 2013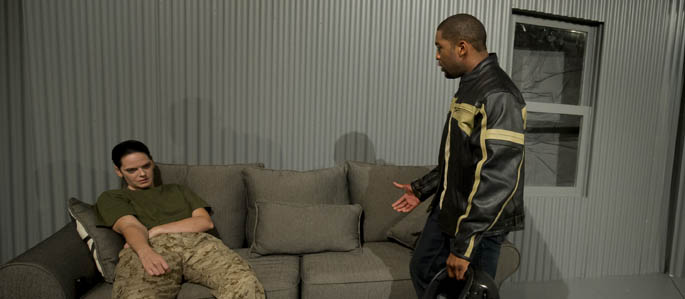 A scene from Soldier's Heart. Check out more photos below.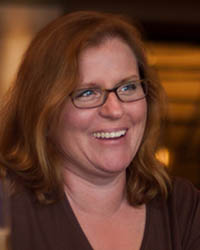 Tammy Ryan
The REP, Point Park University's professional theatre company, presents the world premiere of Soldier's Heart, Pittsburgh playwright and adjunct faculty member Tammy Ryan's gripping new play that shines a light on the struggles facing women in the military.
Directed by Professor John Amplas, Soldier's Heart features Conservatory of Performing Arts students, alumni, adjunct faculty and staff.
The play tells the story of Casey Johnson, who heads off to Iraq after making sure her young son's life is neatly organized while she is away. She returns home to western Pennsylvania months later forever changed, with deep psychological scars from her wartime experiences.
Soldier's Heart previews on Sept. 26, and runs Sept. 27-Oct. 13, Thursday through Saturday at 8.p.m., and Saturday and Sunday at 2 p.m., in the Studio Theatre at the Pittsburgh Playhouse.
John Amplas
The Pittsburgh Playhouse houses four production companies - The REP, Conservatory Theatre Company, Conservatory Dance Company and Playhouse Jr., and welcomes more than 30,000 patrons during the course of the year.
Ticket Information
Tickets range in price from $24 to $27; preview tickets are $15.
Tickets can be purchased by calling the Pittsburgh Playhouse box office at 412-392-8000 or online at www.pittsburghplayhouse.com.
In the News
Related Links
Explore the theatre program at the Conservatory of Performing Arts:
Theatre Program
Theatre Auditions
Apply Online Free
Request Information
Photos: Soldier's Heart
More About: Conservatory of Performing Arts, Pittsburgh Playhouse, The REP, faculty