more news
#PittsburghMe: Meet Allison Schubert, Broadcast Reporting Major
Student Profile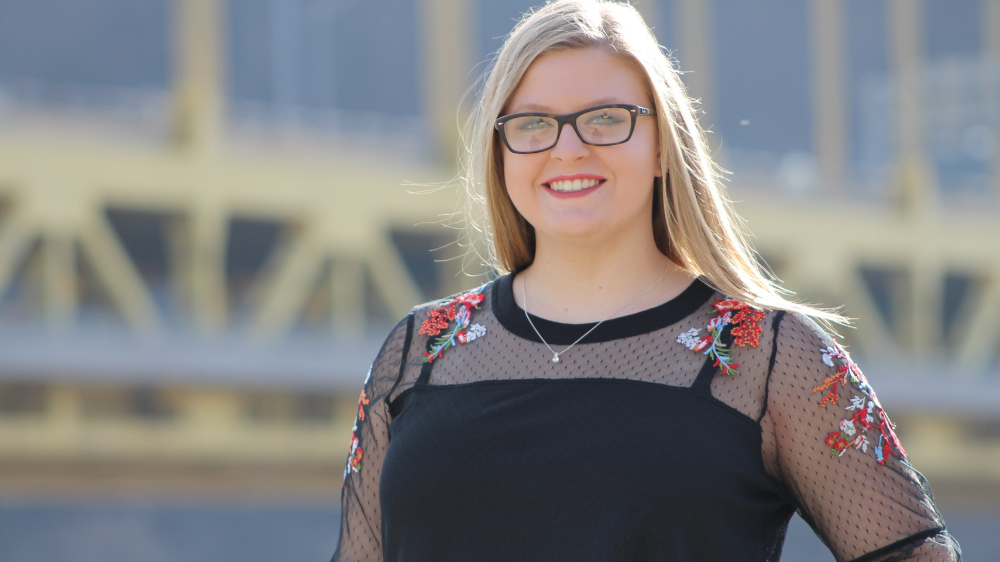 Meet Allison Schubert
Major

Broadcast Reporting

Minor

Public Relations and Advertising

Graduation

April 2020

Scholarships

Presidential

Hometown

Butler, Pa.

High School

Butler Area High School

Dream Job

Media relations for a professional sports team
"Not only was I able to get hands-on experience from day one, but Point Park has connected me with so many professionals currently working in the industry as well as insane internships and jobs that I would not have been able to get otherwise."
Allison Schubert
Why did you choose Point Park University?
When I started my university search I actually wanted to go to a big school, but as soon as I started looking into Point Park, I knew that this was where I wanted to end up. Not only was I able to get hands-on experience from day one, but Point Park has connected me with so many professionals currently working in the industry as well as insane internships and jobs that I otherwise would not have been able to get. Attending Point Park has been the best decision I have made so far.
You

've

landed internships with Pittsburgh Penguins and Pirates.

How has Point Park prepared you

to work

with professional sports teams?
As a sophomore, I attended the Baseball Winter Meetings in Orlando, Fla. with the Center for Sports Media and Marketing. Because of my time there, I landed an internship with Perfect Game USA, a baseball scouting organization in Fort Myers, Fla. Upon returning to school as a junior, my experience with Perfect Game helped me to get a media relations internship with the Pittsburgh Penguins for the spring 2019 semester. While I was interning with the Pens I interviewed for a media relations position with the Pittsburgh Pirates, a role that I hold currently until the end of their season in October. My time with both the Penguins and Pirates has been incredible. Without these experiences I would not know what I want to do with my life or know half of what I know now about working in professional sports.
My major, classes and professors have been great in helping me to succeed in these positions. Without my classes and connections at Point Park, I definitely would not have landed those internships, let alone found success in either of them. With the writing, editing and researching skills that I have gained from my classes I have been able to turn my classroom lessons into experience in the real world.
Tell us about your

trip

to Italy last year with the International Media Class.
When I was a senior in high school I traveled to Greece and Southern Italy (Bari, Sorrento, Capri, Pompeii and Rome) with the Latin club. I swore to myself then that I would return because I loved it so much and luckily, the International Media Class was going the year that I wanted to go. I was even more excited when I learned that the only overlap the trip would have was Rome and then we would be headed to Northern Italy. We started in Rome, stopped in Assisi for a day, went to Florence, and then ended with Venice and Milan.
Aside from the incredible food, my absolute favorite thing about the trip was learning about the differences between Italian and American media and how vastly different the two are. Learning about my future profession in a country that already captured my heart made me fall that much more in love with both the country and my chosen career path. If you are debating on whether or not to travel abroad, do it. You will never regret it.
Pizza Fiesta or Genoa's?
If you would have asked me this my freshman year, I would have said Pizza Fiesta. Now that I am a seasoned professional, Genoa's all the way.
As a

rising

senior, what would you tell

your freshman self?
Stop comparing yourself to everyone else! In the media industry it is entirely too easy to look at everyone around you and think that you aren't good enough or that the work you are doing isn't going to help you get anywhere. I thought back then that there was only one path to success and that I was so far off of that path that I would never make it in the industry or in the sports world at all.
The truth is that everyone has their own path to success - sometimes it isn't as glamorous as we imagine or it does not go exactly the way it has for our idols or our peers. If you work hard enough and want it badly enough, your success will come (and sometimes the success you originally desired isn't the success you are meant to have, but you'll figure that out with time too). 
What advice do you have for incoming students?
Say yes before the reasons for saying no creep into your mind. I went to see Jane Pauley speak at Heinz Hall last year and that was her advice for the audience. That simple piece of advice has stuck with me ever since and I have tried to live by that. As a freshman, I would always overthink everything – a tendency I think a lot of students have. We worry too much about making the right decisions for our future that we have for ourselves that we don't think about the possibilities that could open up to us. Say yes, because you can always say no later.
Read more #PittsburghMe profiles
---
Text by Rhianna Davis, senior business management major
More About: internships, Center for Media Innovation, Perfect Game, International media trip, Downtown Pittsburgh, sports communication, Pittsburgh Pirates, School of Communication, scholarships, Pittsburgh Penguins, Center for Sports Media and Marketing, broadcast reporting