more news
#PittsburghMe: Meet Brittany Arp, Political Science and Legal Studies Double Major
Student Profile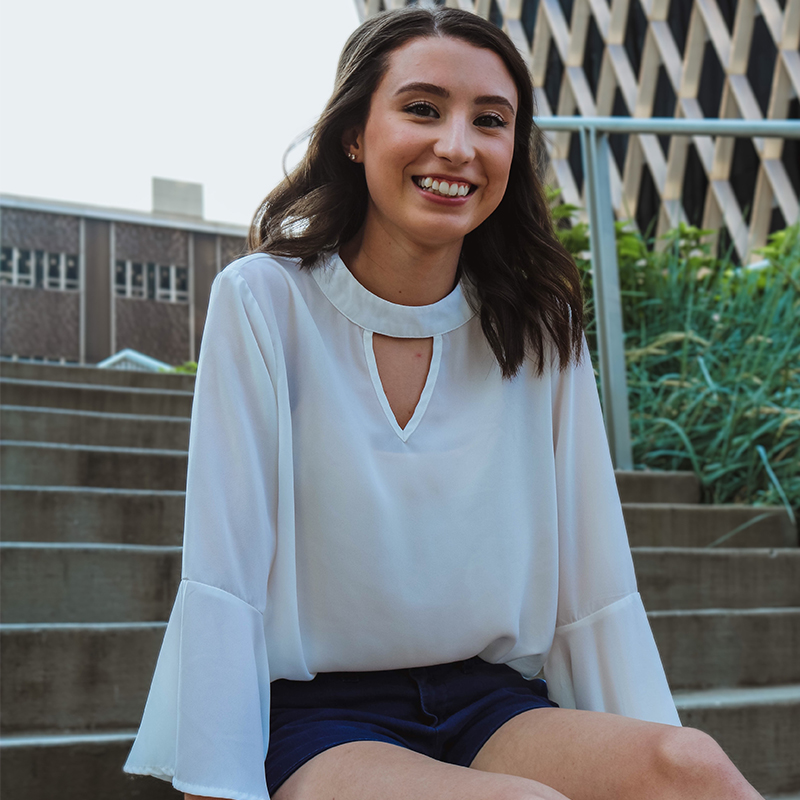 Meet Brittany Arp
Majors

Legal Studies-Traditional, Political Science (government and law, international studies)

Graduation

April 2021

Scholarships

Presidential

Hometown

Russell, Pa.

High School

Eisenhower High School

Dream Job

My dream is to be in politics. I know, I know, it sounds kind of lame, but there's nothing I want to do more than sit down with people from across the country and work on the most important issues facing the nation. My goal is to serve Americans in the best way I know how while opening a few minds, touching a few souls and hopefully, making the world a kinder place.
"Make friends, take pictures, travel often, and eat all of the pierogies Pittsburgh has to offer."
Brittany Arp
Why did you choose Point Park University?
When I toured Point Park I was welcomed as a family member instead of as a prospective student. The Point Park community is so tight-knit that you almost forget how far away from home you are. The students and faculty here are so kind and every single person wants to help you succeed.

How do you balance life as a double major?
Choosing to double major was one of the easiest decisions I've ever made. I knew from the start that I wanted to get a degree in political science while also learning about constitutional law, and Point Park helped me do just that! The professors have been so helpful and accommodating every step of the way.
As for how I balance my life with two majors - very carefully! I've been taking 18 credits each semester which probably sounds like a lot, but I really enjoy learning about my majors, so it doesn't even feel like homework (most of the time).

How are you involved on campus?
The first organization I joined when I started my freshman year was the Honors Program. I love challenging myself and Honors was a perfect fit. There are so many incredible opportunities for internships, leadership positions and trips waiting for you when you join!
The club that really caught my attention was United Student Government (USG). I've made some of my closest friends in USG, and I feel like we've really made life on campus better for all students. Like the Honors Program, there are so many opportunities to grow as person and to grow in my field of study.  
You're the new vice president for USG. What do you hope to accomplish this year?

I'm very appreciative of the opportunity to serve as the vice president of this organization. In my first year as a freshman senator we faced a few obstacles, but we also made a lot of progress. I'm excited to use what I've learned so far and take USG to a new level with some of my closest friends.
Something I want to take on this year is getting more students involved and showing all of our new senators the joy of serving their friends and classmates. There is no greater feeling than solving a problem, even if it's just a broken printer or getting milk as part of a meal plan.
The AICUP is a statewide organization that seeks to educate policymakers and our representatives in Harrisburg of the value and quality education available at Pennsylvania's private colleges and universities. I was chosen to be the Point Park University appointee and have worked to improve scholarships and other financial aid support for all Pennsylvania students attending a private institution.
Every year the AICUP offers a day dedicated to lobbying our state level general assembly and showing them how important our education is to us. Unfortunately, I was unable to attend the event this year, but I hope to educate members of USG specifically so we can go to Harrisburg and better serve our students.
What advice do you have for incoming students? 
Enjoy college life. This is probably one of the only times in your life where you won't have to worry about paying bills or making your bed every day, so never take it for granted. Make friends, take pictures, travel often, and eat all of the pierogies Pittsburgh has to offer.
Read more #PittsburghMe profiles
---
Text and photo by Grecia Ruiz, junior sports, arts, and entertainment management major
More About: Downtown Pittsburgh, political science, Honors Program, School of Arts and Sciences, legal studies, United Student Government, scholarships