more news
#PittsburghMe: Meet Alexis Sherman, Legal Studies Major
Monday, January 4, 2016

Meet Alexis Sherman
Major: B.A., Legal Studies
Minor: Political Science
Expected graduation: 2018
Hometown: Pittsburgh, Pa.
High school: Bishop Canevin High School
Honors and Awards from Point Park: Academic Scholarship, Athletic Scholarship, Dean's List, Track & Field IronWoman Award

Why did you choose Point Park? 
I chose Point Park because I really loved the idea of living and going to school in the heart of Downtown Pittsburgh where there are endless opportunities. It was also nice to be so close to home.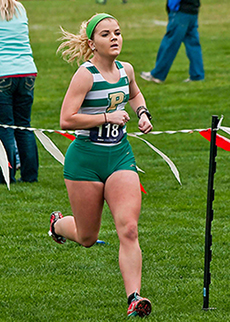 Photo Credit: Terri Moore
What makes attending Point Park for your major different from any other university?  
Going to Point Park for my major is different from any other college because being Downtown offers so many opportunities for jobs and internships at different law firms. We are right down the street from the Allegheny Country Courthouse, so I have the opportunity to walk in and sit in on trials all the time. My advisor and professor for all of my law classes, professor Nathan Firestone, is a Pittsburgh Magistrate, so I'm very lucky to have the opportunity to learn from him. 
Who is your favorite professor?  
My favorite professor is absolutely professor Nathan Firestone. I first took his American National Government class in the spring semester of my freshman year when I was still figuring out what I wanted to do with my major. I learned a great deal in his class about the government, politics and case studies. I often felt discouraged and that I was not cut out to study law, but he always encouraged and reassured me that I can do it. I made it a priority to work extremely hard in his class.

I learned so much from him that I took two of his higher-level law classes in the fall of my sophomore year and I am taking his Constitutional Law class in the spring. He is not only my professor, he's also my adviser. I'm so thankful for how hard he pushes me to always strive for success. 
What activities are you involved in (both on campus and off)?  
Here at Point Park, I am a student-athlete on the women's cross country and track & field teams, I am a senator in the United Student Government, I am an office assistant for the Department of Athletics, and I work as an elf at Santa's House at the Holiday Market in Market Square!
What has going to school in the city of Pittsburgh taught you?   
Going to school in the city of Pittsburgh has definitely taught me how to use what I have around me to get what I need. I don't have a car at school with me so I had to learn how to use public transportation, which took me a few tries until I got it right. I also learned to really appreciate the culture of Pittsburgh.

I take every opportunity I get to go to a new place where I can learn something new. I already knew a little about Pittsburgh from my mother, who was born and raised here, because she often brought my brother and me here when we were younger. Now, she tells me stories of old stores downtown (like Kaufmann's where she used to work) and I've grown to admire how much has changed since she was my age. 
What advice would you give to an incoming student?
I would tell any incoming freshman experiencing the city of Pittsburgh for the first time to not be afraid and embrace the experience head-on. I was new to Pittsburgh two years ago when I first moved here from the other side of Pennsylvania and I had to learn how to adjust to city life. Get involved in activities that will show you different areas of Pittsburgh.

For example, during my senior year of high school I had the opportunity to take a Segway tour starting from Station Square that showed me all around the city and that's when I realized I belong at Point Park. The Ducky Tour is another great way to see Pittsburgh as well as Kayak Pittsburgh. Go to a Pirates game, dine in Station Square, go for a bike ride around Point State Park. There are endless opportunities here and that's what I love about Point Park. 
Read more #PittsburghMe profiles
---
Photo by Victoria A. Mikula, junior mass communication major
Text by Jakob Como, senior multimedia major
More About: Bishop Canevin High School, political science, student athletes, legal studies, scholarships, United Student Government