more news
#PittsburghMe: Meet Benjamin Jackson, Cinema Production Major
Thursday, September 29, 2016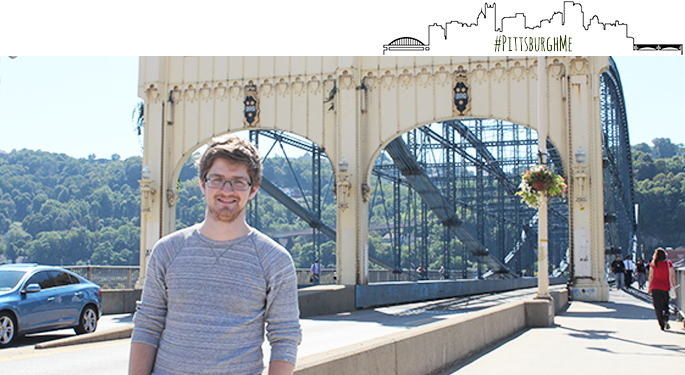 Meet Benjamin Jackson
Major: Cinema Production
Expected graduation: Spring 2017
Hometown: Penn Hills, Pa.
High school: Home schooled
Scholarships: Tuition Exchange Program, Duff scholarship
Why did you choose Point Park University?
I chose Point Park because I was looking for a quality film school and a close, convenient option. No other film school that I looked at came close to the personal, experienced-based approach that Point Park offers. The faculty here are working professionals who teach smaller classes and got a camera in our hands as early as possible. Being able to learn by experience was very important to me in the college decision making-process.
What opportunities have you had through the cinema department?
One of the greatest opportunities I've had at Point Park was participating in a grip workshop where we were taught directly by working set hands in real sound stages. We got to work alongside some of the best professionals in Pittsburgh, and get a taste for real-world equipment and set behavior as college students.
Who is your favorite professor and why?
It's hard to play favorites, but one of my most-appreciated professors would have to be Noel Schermaier. When it comes to student assistance, she basically runs the show at the cinema desk and in every issue relating to film students.
So many movies have been filmed in Pittsburgh. What's one of your favorites?
My favorite movie filmed in Pittsburgh is Silence of the Lambs. It's a superb film and they shot part of it in the Soldiers and Sailors Museum in Oakland, so it's cool to think about whenever I walk by.
Tell us about a memorable experience you've had while in college.
One of my most memorable experiences is when my friends and I were filming one of their first-year projects. It involved running around in the city late at night in painter suits. I remember having a lot of fun shooting that. We have never seen painter suits the same way again.
What are your plans after graduation?
I've been thinking that it would be fun to pass on some of the knowledge I've gained about cameras and creating images by hosting private photography workshops. I'd like to show people how to use a camera and give them a sense of different guidelines for interesting images. I will probably stay on the east coast in either Pittsburgh or New York, circling around the freelance or union film worlds. I would love to wind up shooting movies, either short/independent or feature/professional.
What would you tell yourself as a first-year student?
Freshman me was more shy, so I suppose I would try to tell him to lighten up and try to make more friends. I'd also tell him not to get too worried about anything, because it all gets sorted out somehow in the end.
What advice do you have for incoming students?
I'd give incoming students the same kind of advice. College is the time for you to think about what you want to do. You won't be done learning at the end of it, but you'll know a lot more than when you started. Whatever happens, try to make the most of it, but also don't worry if you don't know what you're doing. Nobody does!
Photo by Annalee Tomak, senior public relations and advertising major
Text by Maggie McCauley, senior broadcast reporting and public relations and advertising major
More About: cinema production, Conservatory of Performing Arts, Pittsburgh, scholarships