more news
Point Park's Fall Internship and Job Fair Brings 110 Employers to Campus
Tuesday, October 4, 2016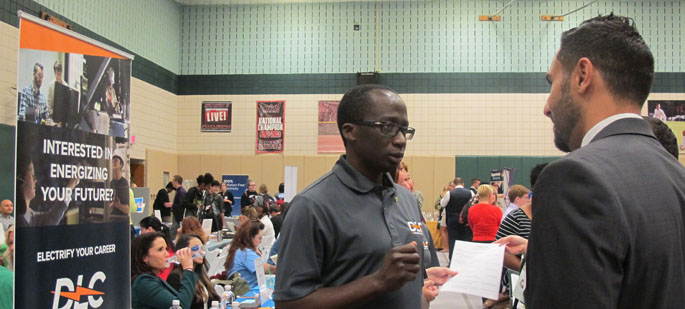 Instead of searching for — and traveling to — an internship and job fair in the region, Point Park University students have the advantage of attending one right on campus every fall.
Recruiters from 110 business and organizations throughout the Pittsburgh area came to Point Park Sept. 27 looking to hire full-and part-time employees, as well as interns, for a variety of positions.
According to Angela Scaramucci, director of the Career Development Center, 216 students and alumni attended the Sixth Annual Internship and Job Fair, held in the Student Center gym.
"This annual event gives students and alumni access to gaining experience in their fields and a competitive edge in the job market," Scaramucci said.
"Each year I find this event beneficial because you have the opportunity to talk with employers, get your name out in the workforce and learn how to make connections," explained Juliana Ross, a junior sports, arts and entertainment management major from Seton LaSalle Catholic High School in Mt. Lebanon, Pa.
From organizations such as Accounting Principals and Animal Friends to Pittsburgh Mercy and the Pittsburgh Pirates, employers at the Internship and Job Fair represented a variety of industries.
"The Pittsburgh Pirates are always actively recruiting and searching for top candidates not only for our sales training program, but for all aspects of our daily business operations," said Dev Kumar, accounting manager in the Pirates' group sales and hospitality department.
"All of the students I spoke with were prepared. They had resumes, dressed professionally and did a great job of asking questions that dug deeply into what the Pittsburgh Pirates are looking for in employees," Kumar added.
Abby Mathieu, public relations manager at Blender, Inc., and a 2014 PR/advertising and journalism alumna, said: "We've had interns from Point Park in the past and have always had great experiences with them so this Internship and Job Fair seemed like the best place to start."
Mathieu added: "We met with a lot of great students at the event who were extremely professional, had resumes prepared and seemed very excited to get their careers started. Also, the staff did a nice job organizing the event."
Junior mass communications major and psychology minor Lauren Ortego is looking for a summer internship and found the fair useful in showing her the many intern positions available within both of her fields of study.
"There were so many different companies I'm interested in working for, but had never considered before," said Ortego, who graduated from Valley High School in New Kensington, Pa.
Beth Turnbull, a junior mass communication major and global cultural studies minor from Norwin High School in North Huntingdon, Pa., also attended the event to explore internship possibilities.
"I found three to four companies I am interested in interning for; some relate more to journalism and others more to public relations and social media. I'm not sure what field I really want to go into yet so these internships will help me decide," she said.
Bernard Vincavage, a 2012 interdisplinary studies alumnus, decided to come to the fair to keep his networking and job prospecting fresh.
"Point Park's Internship and Job Fair is the best event to swap business cards and build meaningful relationships to help me expand my reach and deepen my impact as an entrepreneurial marketer and wellness advocate in Pittsburgh," Vincavage explained.
Ryan Bitzer, a junior SAEM major from Hampton High School in Allison Park, Pa., said: "I found the sheer amount and variety of employers was the best part. I always love going to this fair and meeting new people and networking."




Point Park students and alumni may take advantage of the full range of services offered by the University's Career Development Center, including career exploration, resumes and cover letters, job interview skills and strategies, networking opportunities, on-campus career events, one-on-one career counseling and the Handshake Job and Internship online search. Contact the team at 412-392-3950 or careerdev@pointpark.edu.
More About: Valley High School, Downtown Pittsburgh, Hampton High School, Seton-La Salle High School, internships, Pittsburgh Pirates, Career Development Center, Norwin High School, Internship and Job Fair