more news
@PointParkU hosts #sbmkt101 Twitter chat on Super Bowl ads
Friday, February 17, 2017

#sbmkt101 Twitter Chat
On Sunday, February 5, Point Park University hosted an experiential learning activity during the Super Bowl using hashtag #sbmkt101 (Super Bowl Marketing 101).
The Super Bowl provides students with the opportunity to experience the most innovative messages from brands in real time. Joining the #sbmkt101 Twitter chat enabled students to connect with each other and engage in a wide online conversation. Point Park University marketing professors Chris Lovett, M.B.A., and Paige Beal, M.B.A., led the discussion, which drew 78 students and professionals across the region. The chat was moderated by the University Twitter account, @PointParkU.

Below, students and faculty members share their thoughts on the experience: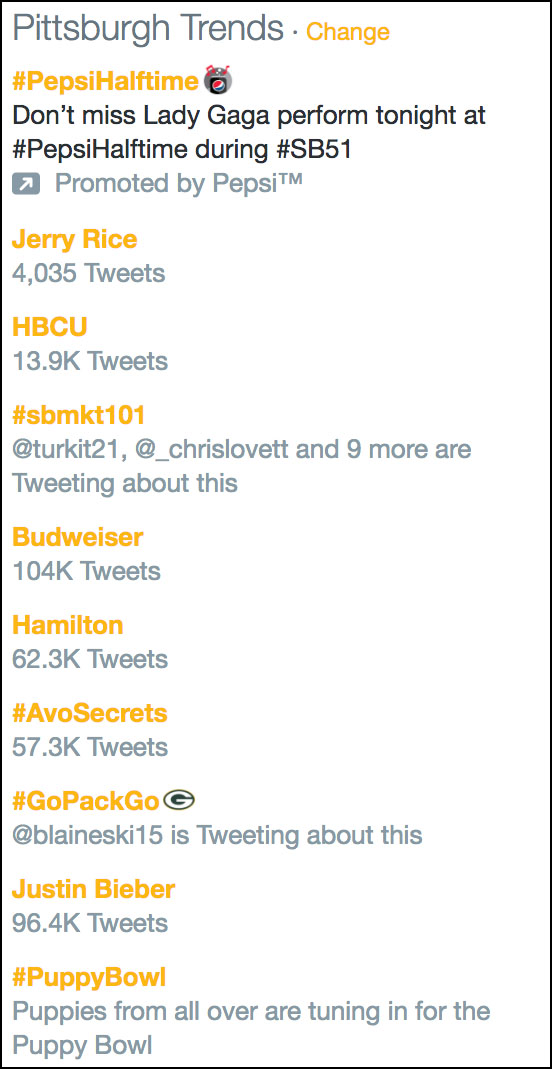 "We can sit in class all day and talk about what makes a good marketing campaign and what makes the most impact, but to see my professor, my classmate and the VP for one of the top firms in the country (who also happened to produce one of the most talked about ads of the evening) weighing in really reinforced everything that I'm learning. The chat really helped me to feel confident in presenting my thoughts and ideas, no matter how different they may be." - Colten Gill, a senior sports, arts and entertainment management major from Lincoln Park Performing Arts Charter School
"I enjoyed the chat a lot. I thought it was very interactive and that it forced me to think about ads in a way that I never have before. I would certainly participate in this again for the next Super Bowl if Point Park decided to host it again!" - Haley Barnes, an M.A. in media communication graduate student from Oakdale, Pa.


"I loved how the students, professors and business professionals all came together to tweet about the ads! I had some great conversations with Professor Chris Lovett and other students." - Megan Thorpe, a junior sports, arts and entertainment management major from Rockwood Area High School in Rockwood, Pa.
"With today's technology and the ability to share in real time on social media, students were able to interact with their professors, other students, and even professionals at local advertising agencies. For any student planning on starting a career in marketing, this chat was a good taste of what they can expect to be doing as digital first marketers." - Chris Lovett, M.B.A., part-time professor of marketing for the School of Business



"The Super Bowl chat was indicative of how practitioner-focused our learning is here. Having the input and guidance of working professionals keeps the academic learnings relevant and experiential." - Paige Beal, M.B.A., assistant professor of sports, arts and entertainment management
Learn More
Point Park University offers more than 100 undergraduate and graduate programs. Request information, schedule a campus tour or apply online to Point Park University.
More About: sports, arts and entertainment management, faculty, Lincoln Park Performing Arts Charter School, Rockwood Area High School, social media, M.A. in media communication, Rowland School of Business