more news
Students' Contributions Honored at Outstanding Student Awards
Wednesday, May 6, 2015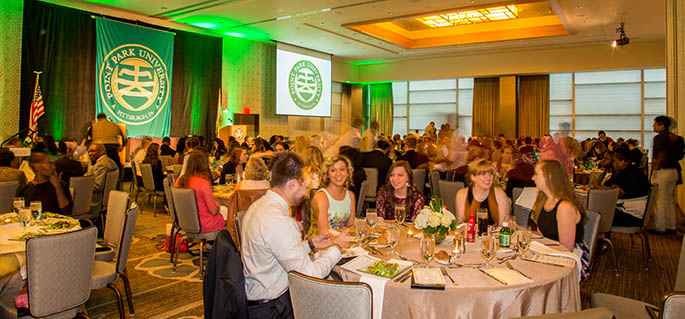 In a celebration of students and a bittersweet goodbye to the class of 2015, Point Park University hosted its annual Outstanding Student Awards banquet at the Fairmont Pittsburgh on Friday, April 24.
Nearly 300 students, faculty, staff and family members joined together to recognize students who have made an impact within the University.
"We're here to celebrate and honor the students in this room," Keith Paylo, associate vice president and dean of students, told the gathering.
After hors d'oeuvres, mingling and plenty of photos, guests sat at tables adorned with flowers and candles for a three-course dinner of salad, chicken and a dessert trio.
Undergraduate and graduate nominees and winners were recognized for their talent and leadership in areas ranging from academics to athletics (full list below).
Three students who are graduating this spring received top awards from the Point Park Alumni Association:
In addition, Andrew LeDonne, intelligence and national security major, received the award for Outstanding Student Leader for his work as vice president of United Student Government.
In his remarks, Point Park President Paul Hennigan shared words of wisdom in the form of four guiding principles. He urged graduating seniors to first, have confidence in themselves; second, know that hard work will help them through anything; third, set a new goal and have a sense of direction each day; and finally, be lifelong learners.
"You have to believe in yourself, and you have to know every day that you are an intelligent and educated person," Hennigan said. "If you add together your intelligence, your ability to think and your ability to communicate, you will find that you can plow through and accomplish anything that you set your mind to."
Highlights of the evening included a hashtag-filled speech from Office of Student Affairs staff and a humorous video with joking reminders to seniors that post-college life brings major changes, such as swapping sweatpants for work clothes and the end of afternoon naps.
Each academic department at Point Park had the opportunity to select an outstanding student from its graduating seniors.
Senior musical theater major Melessie Clark, of Greensburg, Pa., received the Outstanding Senior Student Award for theater arts within Point Park's Conservatory of Performing Arts.
"Being a part of the conservatory is such a blessing, so to know that I was chosen out of the talented students we have, particularly in my senior class, is such an honor," said Clark.
Senior broadcast production major Nathan Keenan, of Mount Pleasant, Pa., received an award for his contributions to Point Park's student-run radio station, WPPJ, in his third and final year attending the banquet.
"It's been a different experience here every time, but it's always a great atmosphere. I think everyone has a good time, and it's a nice celebration," Keenan said. "It was a very nice moment to be recognized for the work that I've put in."

Just before the main awards dinner, Point Park inducted 30 new members into the Alpha Chi National College Honor Society. The students are juniors and seniors who were selected based on their grade point averages.

Article by Kimberly M. Roberts, senior PR and advertising major
---
2015 Point Park Student Award Recipients
Undergraduate Programs
School of Arts and Sciences
Percy Wimbs, CRMJ
Ryan Vickers, INTL
Contessa Sulkowski, FSCI
Stephen Gizienski, Overall Intelligence and National Security
Autumn Whitehead, Humanities and Human Sciences
Robert Michael, Education
Audrey Eisentrout, Natural Sciences and Engineering Technology
School of Business
Chris Cerda, Accounting
Vernon Hines, Human Resource Management
Tove Johnson, Sports, Arts and Entertainment Management
School of Communication
Kimberly Roberts, PR and Advertising
Conservatory of Performing Arts
Taylor Goska, Dance
Dominique Carino, Cinema
Melessie Clark, Theatre Arts
Master's Programs
Communication
Emily Balser, Journalism and Mass Communication
Eric Kincaid, Communication Technology
Concurrent Program
Anne Stephan, Journalism and Mass Communication/M.B.A.,
Criminal Justice and Intelligence Studies
David King, Intelligence and Global Security
Linda Sue Porter, Criminal Justice Administration
Education
Michelina Pollini, Secondary Education
Matthew Mutschler, Teaching and Leadership
Stephanie Nagy, Curriculum and Instruction (adult learning and training)
Taris Washington, Educational Administration
Jeff Besong, Special Education
Katie Shook, Curriculum & Instruction, K-12
Humanities and Human Sciences
Justin Karter, Clinical-Community Psychology
Business
Jeanne Cotter, M.B.A., Accelerated
Aaron Survilla, M.B.A., Fast Track
Yasmin Elgendy, M.B.A., Traditional
Sherry Perkins, Organizational Leadership (community leadership)
Natural Sciences and Engineering Technology
Melissa Rectenwald, Environmental Studies
Trisha Wendel, Environmental Studies
Co-curricular Awards
Student Affairs
Emerging Leader: Amber Mole, Freshman; Morgan Mitchell, Sophomore
Unsung Hero: Kelsey Veydt, United Student Government
Outstanding Student Organization: SAEM Club
Outstanding New Student Organization: Point Chic
Program of the Year: Condom Carnival, Campus Activities Board and Her Campus
Outstanding Orientation Leader: Troy Johnston
Outstanding Residence Life Student Staff Members: Angela D'Occhio, Abigail Cagle
Don Kelly Student Athlete Leadership Award
Audrey Eisentrout, senior softball player
Nathaniel Sphon, senior baseball player
Student Media/ Student Organization Awards:
The Globe student newspaper: Ty Smith
WPPJ student radio station: Nathan Keenan
U-View student television station: Alexandra Clemence
Public Relations Student Society of America: Melanie Vadney
American Advertising Federation: Kelli Murphy
National Press Photographers Association: Ralph Musthaler
Photo Club: Ryan Maine
Point Park New Service: Sara Payne
Wood Street Communications: Alexa Miller
Honors Program Awards:

Nick Moran, Casy Stelitano and Christina Wisniewski