more news
Corbett announces $5M in state money for new Pittsburgh Playhouse
Friday, September 26, 2014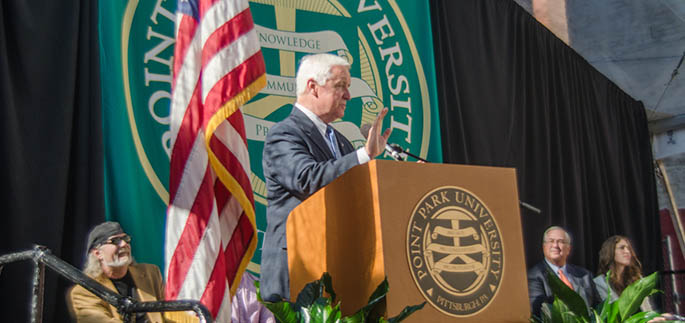 Gov. Tom Corbett announces a $5 million grant to Point Park on Friday, Sept. 26. View and share more photos on Facebook.
Point Park University's new Pittsburgh Playhouse has been awarded $5 million toward its planned construction through the state Redevelopment Assistance Capital Program.
The RACP is a commonwealth grant administered by the Pennsylvania Office of the Budget for the acquisition and construction of regional economic, cultural, civic, recreational and historical improvement projects.
Gov. Tom Corbett came to the Point Park campus Friday, Sept. 26, to make the announcement.
"This is a Downtown Pittsburgh renaissance that's based upon theater, based upon education, based upon private industry," Corbett said. "I can't think of a better investment to make."
Paul Hennigan, president of Point Park University, said the school is "grateful for the state's support."
"This important investment in the Playhouse will create jobs, grow the local economy and advance the nationally recognized programs that are a part of the University's conservatory program," Hennigan said.
Student cast members of "21," a musical based on the life of Roberto Clemente that will make its premiere Oct. 17 at the Pittsburgh Playhouse, sang the national anthem.
"I want to thank the students from '21,'" Corbett said, noting he had seen the national anthem performed numerous times as governor. "That was, without a doubt, one of the best I've ever heard."
Students from the Conservatory of Performing Arts also expressed their thanks to the governor and the state.
The Pittsburgh Playhouse project is part of the University's Academic Village Initiative that has helped reinvigorate Downtown Pittsburgh. The University's current Playhouse is located in Oakland. The new Playhouse will be located on Forbes Avenue in the heart of the Golden Triangle and across the street from the new PNC headquarters. Plans for the facility incorporate Point Park's existing University Center, the historic Stock Exchange Building and a new, five-story, 92,000-square-foot addition.