more news
Fall 2016 Issue of The Point Magazine Now Online
Wednesday, October 12, 2016
The Fall 2016 issue of The Point, the magazine of Point Park University, is now available on campus and online: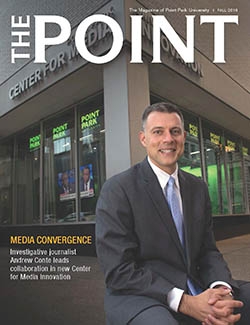 Feature highlights include:
Walking on Air: Alumnus Fred McLeod's broadcasting journey has taken him from Point Park to the Cleveland Cavaliers' recent NBA championship.
Building a Bridge: A gift from The Pittsburgh Foundation funds a pilot program to help at-risk high school students' transition to college.
Share your alumni news in a Class Note, or share your feedback and ideas at thepoint@pointpark.edu!
More About: Center for Media Innovation, cinema arts, School of Arts and Sciences, College Now program, School of Communication, faculty, Conservatory of Performing Arts, education, alumni, cinema production, The Point, athletics, Pittsburgh Playhouse