more news
Students Encouraged to be Good Storytellers at Center for Media Innovation's Opening Day
Thursday, September 22, 2016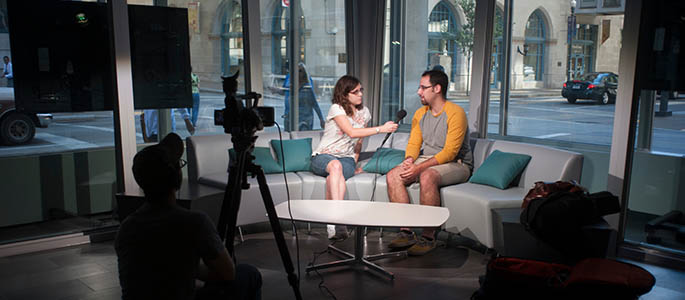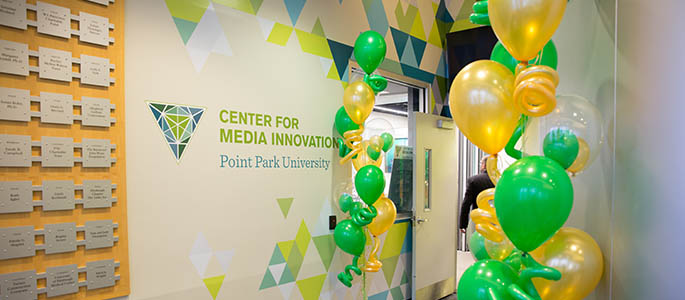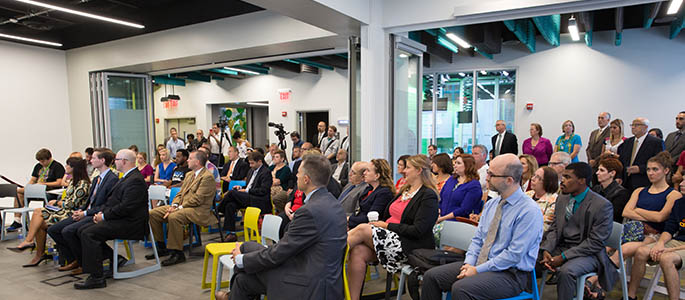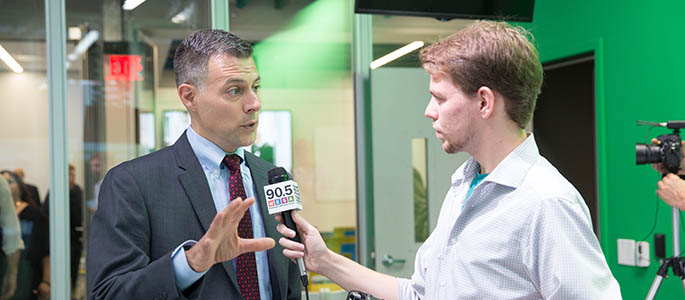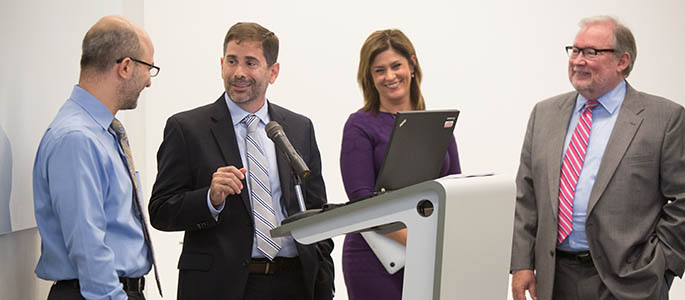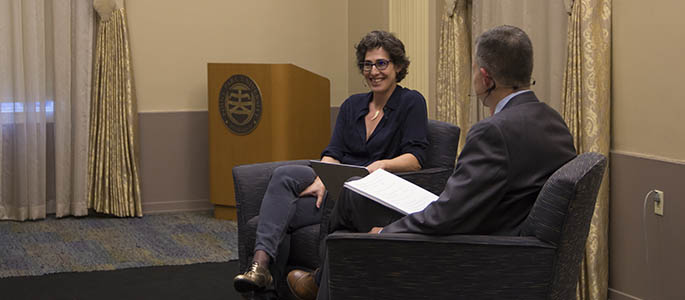 From the outside looking in through floor-to-ceiling glass walls, passersby at Point Park University's new Center for Media Innovation - located at Wood Street and Third Avenue in Downtown Pittsburgh - get a glimpse of students learning their craft.
Center for Media Innovation Opening Day
---
Learn More
The New York City-style learning lab opened its doors Sept. 13, and to mark the occasion, students heard from media pioneers who discussed the future of journalism in a rapidly evolving field.
"It was just about a year ago that we stood in this space and talked about our vision for a multimedia newsroom, and I'm pleased to say that we have delivered on that," said Andrew Conte, director of the center, at the opening ceremony. "This is a state-of-the-art learning space for students, and for professionals it's a gathering space and a laboratory to work out the ways forward for the way we tell stories, and the way we make money to support storytelling."
"Opening the center is a big day for Point Park and for me as a student," said Blaine King, a senior broadcast reporting major. "This is the start of something that will be big for years to come and is another reason why this is one of the best schools in the country."
Alexander Popichak, a sophomore journalism major, added that the center is the beginning of a new chapter for Point Park students.
"This is cementing that Point Park wants to make an investment in the future of journalism," Popichak said. "It means a lot to me that the school is going out of their way to invest in my program and is a leader in our field. This is the start of something new."
Highlights of the center's opening day events included:
A lunch celebration in Village Park with live entertainment provided by Point Park University's Pioneer Records.
A presentation by Chris Eames from ESPN and James Kerr from AT&T discussing why sports matter most to fans and brands. Watch the presentation on the center's YouTube channel.
The panelists shared examples of how their organizations are working to innovate and move the industry forward, as well as gave career advice to students.
"The media has changed so much since I started in this business 32 years ago," said Wright, who is a part-time professor in Point Park's School of Communication. "It's really important that students keep up with the learning curve, and it's so nice to have the tools in this new space. Our whole goal is to help students get jobs and this new facility will help to prepare them for their futures."
O'Reilly added, "Everybody can do everything now. The challenge to you now is to aspire less to the technology than to being a good storyteller. At the end of the day this is about storytelling, the technology is a means to an end and not the end in and of itself."
More About: student workshop, Downtown Pittsburgh, School of Communication, WTAE, Center for Media Innovation, WPXI, Pioneer Records, Center for Sports Media and Marketing, ATT SportsNet