more news
Food Insecurity in the Region Topic of Ph.D. in Community Engagement Program's First Speaker Series
Tuesday, December 13, 2016
Members of the Point Park community create bags of food for Plum Borough School District's Feeding Friends program.
Food insecurity was the first topic discussed at Courageous Conversations, a new series hosted by Point Park University's Ph.D. in community engagement program. The series aims to raise awareness of organizations making a difference in the Greater Pittsburgh community.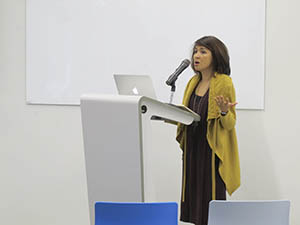 Leah Lizarondo - CEO and co-founder of 412 Food Rescue, whose mission is to reduce food waste and end hunger in the community - spoke to students in the Center for Media Innovation during the fall semester.
"Leah illustrated how important it is to use food waste to combat the food insecurity epidemic in this country," said student Veronika Panagiotou. "By showcasing her work at 412 Food Rescue during the first Courageous Conversations lecture, the Ph.D. in community engagement program is bringing life-changing matters to the forefront of the Pittsburgh community."
During her presentation, Lizarondo shared the startling statistics of food insecurity in Allegheny County - nearly 172,000 people are food insecure; 43,000 of those are children.
"Americans waste 62 million pounds of food each year, with one in seven being food insecure," Lizarondo said. "Our vision is to end food waste, impact hunger, our environment and ultimately our health."
Lizarondo and 412 Food Rescue volunteers have worked to cut costs and save more food by starting a conversation on social media. The volunteers pick up food from food banks, universities, food retailers, wholesalers, restaurants and catering companies to deliver to families in need on the same day.
Following Lizarondo's presentation, students participated in a service project for Plum Borough School District's Feeding Friends program, which provides a bag of food on the weekends for students who are food insecure.
Learn More
Reporting contributed by Chelsea Pompeani, media innovation specialist for the Center for Media Innovation
Photos by Shayna Mendez, senior photojournalism major
More About: Center for Media Innovation, Ph.D. in community engagement