more news
Graduates celebrate accomplishments at Point Park's 55th Annual Commencement
Thursday, May 7, 2015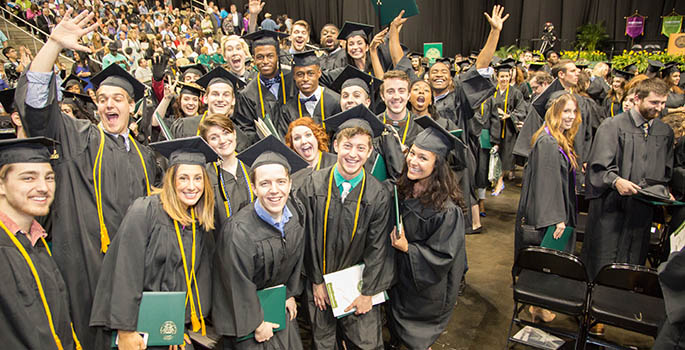 More than 521 undergraduate students took part in Point Park's 55th annual commencement ceremony, held May 2 at the CONSOL Energy Center in Downtown Pittsburgh.
"For our graduates, today is a great day. It is the reward and culmination of several years of disciplined learning," University President Paul Hennigan told the graduating students and their families and friends.
"For our faculty and staff, today is a bittersweet day as the pride and happiness we celebrate is tempered by the official farewell that this ceremony represents," he continued.
Overall, 723 students received degrees this spring in one of the University's undergraduate programs.
Commencement speaker Charlie Batch, former Steelers quarterback, community advocate and author, compared the ceremony to some of his team's accomplishments on the football field.
"Welcome to the Super Bowl," Batch told the students. "You are playing the big leagues now. This is the Super Bowl of your university career, and you've already won. Congratulations!"
Batch encouraged the students to approach the next phase of their lives as if they were building a personal dynasty.
"As you go forth from today's celebration and begin to create your personal dynasty, keep these lessons in mind: Always expect greatness from yourself and everyone around you. Continue to dream big and have faith in yourself, watch out for each other. Be sure to get and keep the right people in your pocket. If you do this, you will not only succeed in creating your personal dynasty, but also help others create theirs along the way."
Before his address, Point Park awarded Batch the University's 2015 Outstanding Achievement Award for Community Engagement in recognition of his many contributions in leadership and service to the community.

Graduating senior Autumn Whitehead, who earned a B.A. In English/creative writing, spoke on behalf of the class of 2015.
"What you're walking away from this University with is more than a piece of paper. You've achieved a skill set, a new perspective, a broader outlook, a story," she said. "But my story, like yours, is unfinished. Take the time to write each page with intent and purpose."
Video Highlights
Check out highlights from our 55th annual undergraduate commencement ceremony:

Posted by Point Park University on Friday, May 15, 2015

Related Coverage
Related Links
Undergraduate Academics
Undergraduate Student Outcomes
Request Information
Apply Online