more news
Honors Program welcomes 80 new students for 2012-13 academic year
Friday, September 21, 2012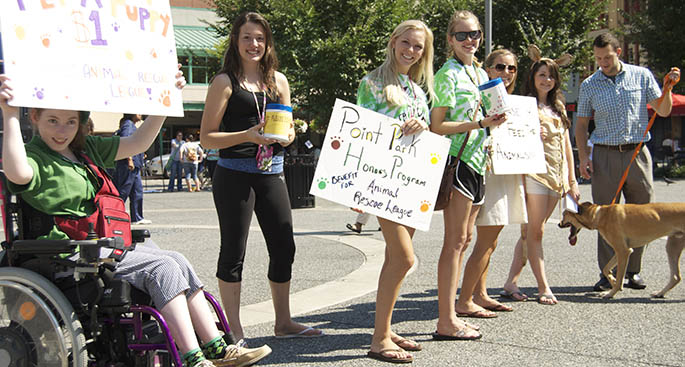 The Honors Program welcomed 80 new students to the University and the city of Pittsburgh for fall semester, helping them quickly become part of the academic community as they begin their college careers at Point Park.
Learn More
Point Park Honors Program
Honors Student Organization
Undergraduate majors
Several events and activities, held right after early residence hall move-in for Honors Program students, helped acquaint the new freshmen and transfer students with the program and introduced them to their fellow students, according to Helen Fallon, Honors Program director and a professor in the School of Communication.
The Honors Program at Point Park offers qualified students an enhanced academic experience in which they seek out challenges, take responsibility for learning, and pursue intellectual and personal growth.
This year, each new honors student has been matched with an Honors Program upperclassman who serves as a mentor through the first year at Point Park. The new students and their mentors, along with Honors Program staff, shared a Celebration Dinner in Point Park's Village Park on Aug. 22.
"The Honors Program made me feel involved and a part of the University right away, which was really important to me as a commuter," said Brenna Fritz, an incoming English major from Pittsburgh.
Honors Program photos
The next morning, the new students heard a presentation on the history and architecture of Pittsburgh by Louise Sturgess, executive director of the Pittsburgh History and Landmarks Foundation.
Afterward, the new students explored the city with their mentors, hopping on a bus to one of Pittsburgh's distinct neighborhoods or walking through Downtown and the North Shore. Along the way, the students took photos and careful notes, then presented what they found to the entire group for a "City As Text" project.
"It was a new and interesting experience to connect what I learned in a lecture to a real-life experience. It took it to the next level in my mind," said Vinny Smith, a freshman sport, arts and entertainment management major from McDonald, Pa.
Isabella Alexandratos, president of the Honors Student Organization, led the new students through the week's events.
"I loved meeting and really getting to know all of the new students. I hope that the week made them feel like a part of something and challenged them to always explore," she said. "To me, that's really what the Honors Program and our student organization is about."
The new Honors Program students also jumped right into the program's other core tenets - service and leadership - by partnering with the Animal Rescue League Shelter and Wildlife Center to set up "Pet a Puppy" and "Cuddle a Kitten" stations both on campus and in nearby Market Square. The fundraiser was a huge success, raising $725 for the Animal Rescue League.
"I loved the community service. I had so much fun it didn't even feel like work," said Fritz. "I'm looking forward to getting involved in the Honors Program and everything it does in the community."
Written by Justin Karter, graduate assistant, Honors Program