more news
Honors Students Visit Flight 93 National Memorial
Monday, September 12, 2016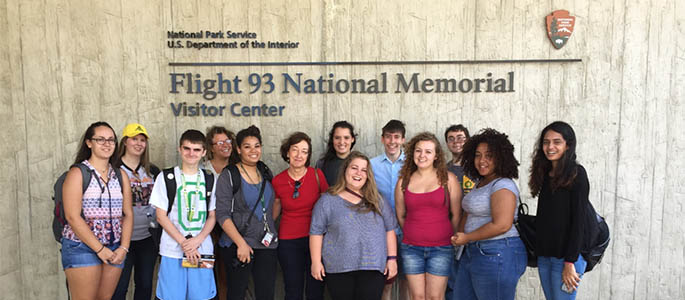 Students in Point Park University's Honors Program traveled to the Flight 93 National Memorial in Shanksville, Pa., to observe the site of the tragic crash of United Flight 93.
"I had no idea about Flight 93 in general, so learning about all the different people affected by it was really interesting," said Kooper Sheeley, a sports arts and entertainment management major from Plainsfield, Conn.
Since the memorial opened in 2011, the Honors Program has taken the trip for students to learn about the events of Sept. 11 beyond New York City - in Pittsburgh's backyard. The site has expanded to include a visitors center in addition to a memorial plaza.
"What moved me the most was listening to the phone calls of some of the passengers," said Alexa Newbrough, a theatre major from West Deer, Pa. "I saw grown men walk away from that station with tears in their eyes. You see the faces and the names, but you hardly ever get the voices."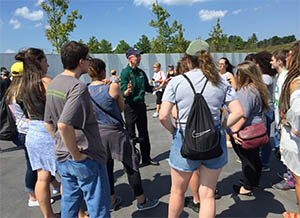 After exploring the visitor center and moving on to the memorial plaza, the students ran into author and Point Park alumnus Tom McMillan, who works as a volunteer ambassador there. He gave them an in-depth explanation of the site, and they learned about the process of writing his book, published in 2015, "Flight 93: The Story, the Aftermath, and the Legacy of American Courage on 9/11."
"I was very surprised at how welcoming everyone was at the memorial," said Crisalicie Garcia, an intelligence and national security major from New York City. "Something so tragic happened there, and people were so open to talking and conversing about it and sharing stories. I didn't expect that at all. I honestly expected to find a lot of anger and hostility, but all I found was welcoming and understanding."
Later that week, the Honors Program partnered with several local professional journalism organizations, including the Point Park's new Center for Media Innovation, to bring Associated Press Photographer Richard Drew to campus for "Fifteen Years On: Journalists Reflect on 9/11 Coverage." Drew captured the iconic "Falling Man" photo on September 11.
After the event, the Honors Program held its annual 9/11 vigil in Village Park. Students and visitors sang, prayed and observed a moment of silence for the victims of the terror attacks and for all victims of terrorism around the world.
"The vigil was wonderful because it gave us an amount of time in which we centered our energy on remembering what happened 15 years ago. That's so important now because there are so many times when we just glaze over the coverage because it's something we feel like we've seen it before, when, instead, we need to be finding new ways to remember what happened," said Carrie Reale, a public relations and advertising major and resident educator of the honors floor.
Reale organized the vigil with Honors Program graduate intern Parker Werns and journalism major Emily Bennett.
Text by Elizabeth R. Turnbull, mass communication major
Photos provided by the Honors Program
More About: student trips, Honors Program, sports, arts and entertainment management, journalism, theatre