more news
Pirohi 101: City-University Life Class Explores Food and Culture in Pittsburgh
Wednesday, November 5, 2014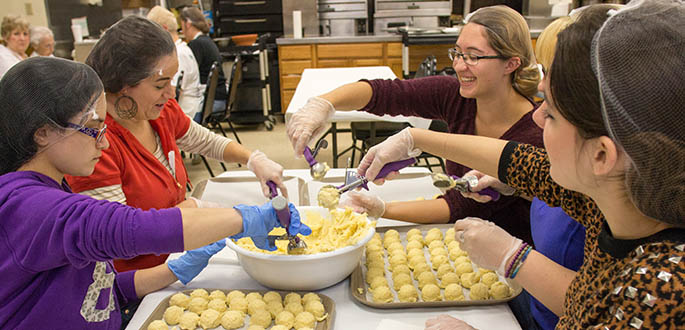 Students and Assistant Professor April Friges make pirohi at St. Mary's Ukrainian Orthodox Church. More photos.
Wearing hairnets and disposable gloves, Point Park freshmen in Assistant Professor April Friges' City-University Life class rolled up their sleeves to take part in what has become a Pittsburgh tradition at a national historic landmark - making homemade pirohi at St. Mary's Ukrainian Orthodox Church in McKees Rocks, Pa.
Students packed a Point Park shuttle during their regularly scheduled class time and made the 10-minute drive to the church to learn firsthand how to make pirohi.
"This is hunky soul food," said Rev. Tim Thomson, pastor at St. Mary's parish. "We're so excited to have Point Park students experience the process of making pirohi, a project that happens every Friday to help sustain the church and keep our ethnic tradition alive."
Surrounded by flour, potatoes, cheese, onions, butter, salt and pepper, students scooped out the potato filling, and one-by-one placed it in the chilled dough, ready to be pinched and formed into a pirohi. This was no easy task and called for instructions from St. Mary's expert pirohi maker, Agnes Kovarovich.
"I've been making pirohi since 1952 and know the secret recipe, but I can't share it," Kovarovich said. "Everything is made from scratch. The students are doing a great job and making them faster than we can."
For many students in the class, this was their first time tasting a homemade pirohi.
"The only pirohi I've ever had is from Point Park's cafeteria. It's been fun being a part of the process to make something that I got to eat," said Lucy Pierson from Raleigh, N.C.
Classmate Dustin Urschel from Toronto, Ontario said making pirohi reminds him of being at home with his family, but enjoyed the opportunity to learn about this tradition in Pittsburgh.
"I've learned so much in this class about the landmark buildings and Pittsburgh's culture. I didn't know much about Pittsburgh before coming to school here and I absolutely love it. Everything is close, clean, it's fun and people are generally nice," said Urschel.
Students took a brief tour inside the church to learn more about its rich history and then enjoyed pirohi for lunch.
Pittsburgh History and Culture
Before heading back to campus, the group made a stop in Pittsburgh's Strip District to explore restaurants, shops and more.
Throughout the semester, students in the City-University Life course have enjoyed: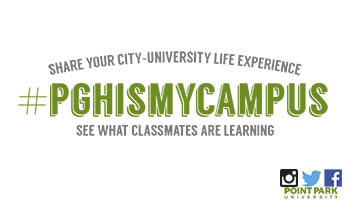 Off-campus visits
Stage AE
PNC Park
The Mattress Factory
Carnegie Museum of Art and Natural History
Guest lectures
Chris Moore, WQED-TV
Rich Engler, Pittsburgh concert promoter
On-campus activities
Created mock crime scenes on campus
Explored research methods in the University's library
Check out the photo gallery below to learn more.
Photo Gallery: City-University Life Experience
Photos by Victoria A. Mikula, sophomorephotojournalism major
More About: Pittsburgh, City-University Life