more news
Point Park Inducts 38 Students Into Alpha Chi Honor Society
Tuesday, May 3, 2016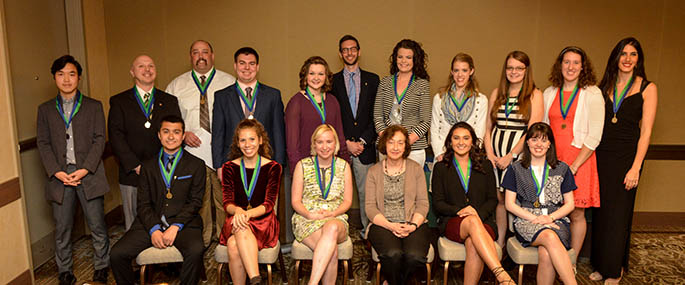 Point Park University inducted 38 juniors and seniors into the Alpha Chi National College Honor Society April 22 in advance of the Outstanding Student Awards banquet.
Alpha Chi promotes academic excellence and exemplary character among colleges and universities. An invitation to membership is extended to those who rank in the top 10 percent of their classes and achieve high distinction among the community.
The 2016 Alpha Chi inductees are:
Paul Airhart
Malinda Cesnalis
Cristiane Vasconcelos-Chaves
Mitchell Curtaccio
Paul Daniels
Joshua Darlington
Samantha Dauer
Ashley DeStefano
Chelsey Driskel
Asia Pennock-Franke
Jessica Federkeil
Jennifer Ferg
Ryan Fiedel
Jessica Frick
Stephanie Galbraith
Lauren Gerlowski
Alexander Grubbs
Sara Hilty
Erin Huttenhower
Lauren Joseph
Linda Lutz
Jessica Martin
Leah Maurizio
Caitlin McDonnell
Matthew Pack
Ellen Peterson
Anna Livia Rice
Allison Riley
Kaitlyn Sayers
Seongkyeong Seo
Veronica Shields
Diana Sokol
Amanda Soltis
Amanda Toledo
Damian Vaccaro
Maria Webb
Natalie Wolkiewicz
Anthony Zoroya
Helen Fallon, Honors Program director and professor of journalism, and Brendan Mullen, Ph.D., assistant professor of physics, officiated the ceremony. Keith Paylo, associate vice president of student affairs and dean of students, offered congratulatory remarks on behalf of the University.
Article by Elizabeth R. Turnbull, mass communication major