more news
Outstanding Student Awards Banquet Recognizes Academic Excellence and Leadership
Tuesday, April 26, 2016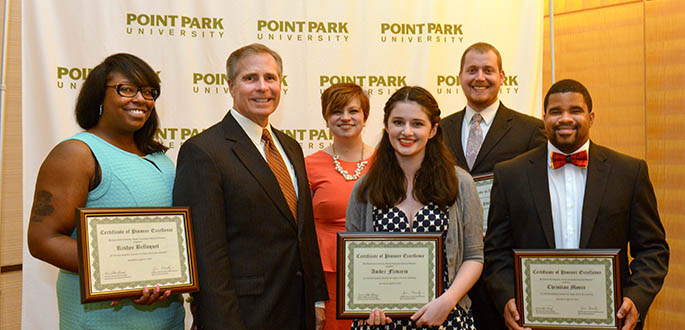 The Point Park University community celebrated the end of the 2015-16 academic year at the annual Outstanding Student Awards banquet April 22.
Nearly 300 students, faculty, staff and family members enjoyed an elegant evening at the Fairmont Pittsburgh hotel, just a few blocks from campus, to recognize student accomplishments.
"You are all winners who embody the Point Park spirit," said Paul Hennigan, Ed.D., president of Point Park. "You've done an outstanding job and we are very, very proud of you. Congratulations to all of you."
More than 25 students, mostly graduating seniors, received awards for their academic achievements or their contributions to the campus community (see full list below).
"Point Park has developed me into a leader who will hopefully make a positive impact on the community of Pittsburgh," said senior sports, arts and entertainment major Amber Flevaris. "I was truly honored to be recognized. This was the perfect final chapter in my wonderful undergraduate career at Point Park."
"Point Park has not only changed me for the better, but it has also made me realize that there is value in everything around you," said senior public relations and advertising major Kariann Mano. "It was such a great feeling to be nominated, let alone receive awards for my work."

"To be recognized by my peers, alumni and mentors as someone they consider outstanding or distinguished is a true honor," said senior dance major Hailey Turek. "I am always growing and developing my skills, but for that one evening I felt a sense of satisfaction with all the work I've done at Point Park."
Freshman secondary education major Tim Grebeck was recognized as an emerging leader on Point Park's campus.
"Point Park has made me into a much more mature, independent and outgoing person than I had ever thought possible," Grebeck said. "I expect to see even more amazing changes come from my time at Point Park, and I know that this is the right school for me."
Earlier in the evening, Point Park inducted 38 new members into the Alpha Chi National College Honor Society. The students are juniors and seniors who were selected based on their grade point averages.
2016 Point Park University Student Award Recipients
Academic Excellence
School of Arts and Sciences
Kelly Schuetz, Criminal Justice
Melinda Harrison-Laster, Intelligence and National Security
Lauren Finkbeiner, Forensic Science
Marcella Arrie Griffin, Education
Kamaria Tucker, Humanities and Human Sciences
Zachary Borzovoy, Literary Arts
Erin Faight, Natural Sciences and Engineering Technology
School of Business
Amber Flevaris, Sports, Arts and Entertainment Management
Isabella Vavrek, Business Management
School of Communication
Conservatory of Performing Arts
Mark Gazica, Cinema
Julia Grubbs, Dance
April Yanko, Theatre
Co-curricular Awards
Honors Program: Outstanding Seniors
Amber Flevaris
Julia Grubbs
McKenna Adams
Don Kelly Student Athlete Leadership Award
Student Affairs
Tim Grebeck, Emerging Leader
Ashley Black, Unsung Hero
Black Student Union, Outstanding Student Organization
Feminist Collective, Outstanding New Student Organization
WPPJ's 35th Annual Rock-A-Thon, Program of the Year
Patricia Sorg, Outstanding Orientation Leader
Anna Goforth, Christian Moore, Adam Rossi and Emily Yount, Outstanding Residence Life Staff Members
Hailey Turek, Outstanding Student Leader
Point Park University Alumni Association
James Baker, Distinguished Graduate Student
Hailey Turek, Distinguished Undergraduate Student
Amber Flevaris, Rishee Belloquet, Christian Moore and Phillip Gertz, Certificate of Pioneer Excellence
More About: Conservatory of Performing Arts, alumni, Fairmont Pittsburgh, Rowland School of Business, School of Communication, graduate programs, Outstanding Student Awards, School of Arts and Sciences, WPPJ, Honors Program, athletics