more news
Point Park University Joins Nationwide Initiative to Bridge Tech Skills Gaps in Pittsburgh's Innovation Ecosystem
Wednesday, November 8, 2023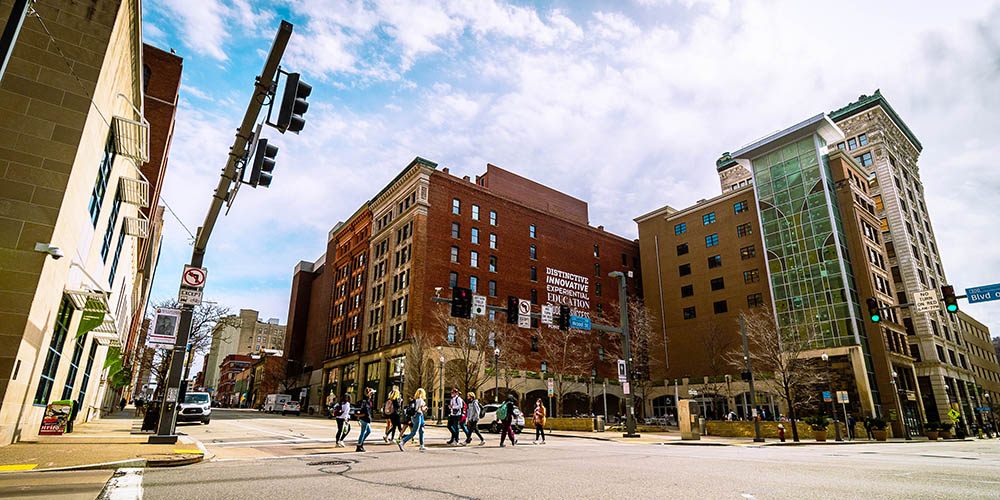 "Together with SkillStorm, we're providing the cutting-edge training needed to bring current tech professionals up to industry speed and create an on-ramp for emerging talent so they can enter the tech workforce quickly and seamlessly."
Dr. Chris W. Brussalis, President of Point Park University
Point Park University today announced the launch of a new partnership designed to help businesses close talent gaps in the region's fast-growing tech sector. The initiative, developed in collaboration with tech talent accelerator SkillStorm, will provide state and regional employers with access to previously untapped talent pools, as well as a means to upskill their existing workforce through career-aligned training programs that lead to industry-recognized credentials.
"As employer demand for workers with tech skills skyrockets, higher education institutions have the opportunity to act as pivotal drivers of career success and professional excellence," said Dr. Chris W. Brussalis, President of Point Park. "Together with SkillStorm, we're providing the cutting-edge training needed to bring current tech professionals up to industry speed and create an on-ramp for emerging talent so they can enter the tech workforce quickly and seamlessly."
According to CompTIA's 2023 State of the Tech Workforce report, the state of Pennsylvania is ranked No. 9 in the nation for tech employment, the industry responsible for more than $50 billion in economic impact. The results of a recent tech industry outlook report by the Pittsburgh Technology Council also illustrates significant tech sector growth over the past few years, particularly in fields such as information technology, energy technology, advanced manufacturing and advanced materials.
A thriving tech hub, Pittsburgh is home to numerous innovative tech companies including Duolingo, Aurora Innovation and Argo AI. The Steel City has also caught the attention of tech giants, with Google investing $15 million into creating a Pittsburgh-based office in 2022 and Meta setting up shop in Pittsburgh's Strip District to develop augmented and virtual reality technologies.
With surging growth comes surging employer demand for qualified tech talent. To address this demand, Point Park's Professional Career-Readiness Center is working with both state and regional employers to create affordable, accessible pathways to careers in tech and deliver high-quality training opportunities that directly reflect employer needs.
Using SkillStorm's innovative training platform, Point Park will offer a range of courses that lead to credentials in today's most in-demand tech skills, including AWS, CompTIA and Salesforce. These certifications will enable employers to keep pace with technological change by providing training to their current workforce, while also preparing the next generation of qualified tech professionals.
"In a world defined by rapid technological evolution, it's imperative that professionals continue to level up their skills to measure up to lofty employer demands," said Joe Mitchell, COO at SkillStorm. "We're not only addressing pressing tech skills needs, but also setting a precedent for how higher education institutions and tech employers can come together to create sustainable pathways to economic mobility."
More About: Career Development Center, Pittsburgh, Downtown Pittsburgh