more news
Point Park students lead volunteer project in and around Downtown Pittsburgh
Friday, April 18, 2014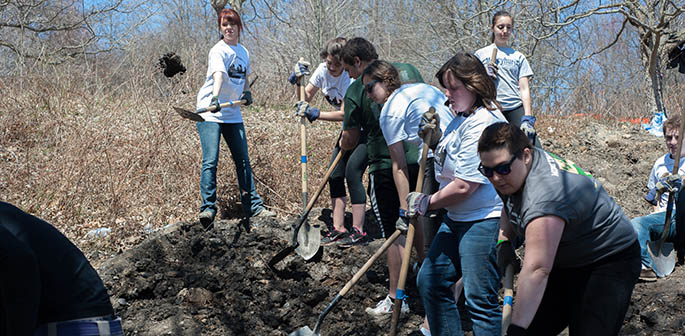 In what has become a fun springtime tradition at Point Park, this year's Pioneer Community Day drew a record number of students, faculty and staff members volunteering to help nonprofit neighbors in and around Downtown Pittsburgh.
The volunteers - 164 in all - picked up paint brushes, brooms and shovels on a sunny morning April 12 to lend a hand at organizations including Hosanna House, the Western Pennsylvania Humane Society, the Pittsburgh Downtown Partnership and Friends of the Riverfront.
Video: Pioneer Community Day 2014
"It's really great to see how many students took the time out of their day to come out and give back to the Downtown community," said Julian Singleton, a junior majoring in biological sciences and co-chair of Pioneer Community Day. "We reached our goal of beating last year's numbers (125 participants), so I'm very happy about that."
After finishing their assignments around Downtown, participants came back to campus for additional volunteer work - making 15 no-sew blankets for Children's Hospital of Pittsburgh - and some fun.
Two brave volunteers - Keith Paylo, dean of students, and senior Dillon Kunkle, president of United Student Government - took turns in a dunk tank in the Student Center parking lot, helping to raise $114 for the Make-A-Wish Foundation. Combined with raffle ticket sales and a penny drive earlier in the week in Thayer and Lawrence residence halls, Pioneer Community Day raised just over $264 for Make-a-Wish.
Previous coverage
Pioneer Community Day 2012
Pioneer Community Day 2011
Photo Gallery
More About: volunteer work, Downtown Pittsburgh, Pittsburgh, Pittsburgh Downtown Partnership