more news
Point Park University to Host Graduate Students Conference April 14
Thursday, January 4, 2018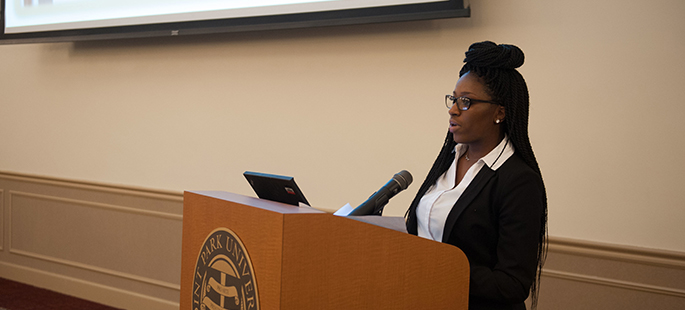 Graduate students are invited to present their research related to professional development and community services for Point Park University's Graduate Student Conference April 14, 2018.
The conference from 9 a.m. to 2 p.m. will include a keynote speech by alumnus Billy Hartung on "Advancing Professions and Serving the Community" as well as workshop and poster sessions and faculty roundtables.
There will also be networking opportunities related to a variety of fields in which Point Park offers graduate programs including:
Business administration
Communication
Education
Engineering management
Environmental sciences
Health care management
Psychology/community health
Screenwriting/playwriting
Download the
Call for Papers flier
 for additional information about the conference.
Keynote Speaker
Hartung received his B.F.A. in theatre arts from in 1993 and later returned for his M.A. in Curriculum and Instruction in 2008; both from Point Park University. Hartung has written curriculum and taught acting and musical theater for the performing arts faculties of The Pittsburgh High School for the Creative and Performing Arts (CAPA), the Carnegie Mellon University Pre-College Program and the Pennsylvania Governor's School for the Arts. He is also an active member of the Arts Education Collaborative (AEC) where he taught and created programs for high school teachers and district staff to further explore arts education curriculum in their classroom and school districts.
Learn More 
For questions or more information about the conference, contact Yaser Roshan, Ph.D., at 412-392-3879 or yroshan@pointpark.edu.
More About: M.S. in engineering management, M.A. in clinical-community psychology, M.S. in environmental studies, M.A. in media communication, M.A. in communication technology, graduate programs, M.F.A. in Screenwriting and Playwriting, M.A./M.B.A., M.Ed. in Athletic Coaching, M.B.A.