more news
Point Park University Welcomes Class of 2017 at Convocation and First Year Frenzy
Wednesday, September 4, 2013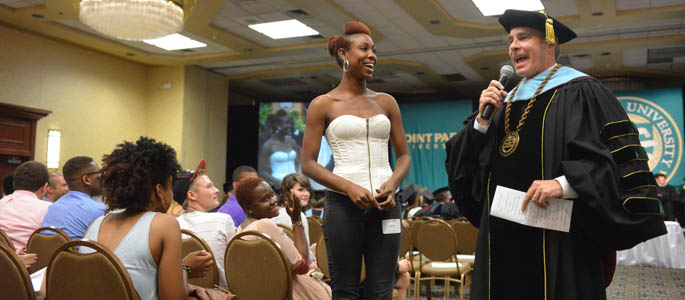 Point Park President Paul Hennigan welcomes the Class of 2017 at Convocation. Check out more photos below.

The Point Park University community celebrated the beginning of the 2013-14 academic year during First Year Frenzy, a series of events for new students to explore campus, Downtown Pittsburgh and meet new friends before classes begin.
Convocation Video
Freshmen and transfer students participated in activities on and off campus, including a boat ride on the Gateway Clipper and a Convocation ceremony, the official start of the new school year.
"Going to college is a fresh start," said Point Park President Paul Hennigan, as he welcomed the Class of 2017 at Convocation, held at the Sheraton Station Square. "Earning your bachelor's degree will be a lot of hard work, but it will be a lot of fun along the way. The first thing you need to do is open yourself up to the entire new world around you."
According to Karen McIntyre, senior vice president for academic and student affairs, this year's freshmen class - representing more than 20 countries and 35 states - demonstrates academic excellence, leadership and a desire to learn.
First Year Frenzy Video
"You are clearly leaders, performers, athletes and volunteers, and you are ready to learn," she said. "Your college experience will help you grow, so that you can contribute to your community and build your career."
Convocation speaker Vaunda M. Nelson, a Point Park alumna, youth services librarian and a published author, offered her advice on what it takes to get the most out of a college experience.
"Strive to become a truly educated person, so that you may excel in life," said Nelson. "Look closely, observe and dig deep. Examine the details and formulate your own ideas. Pursue the thing you are most passionate about, but learn to learn."
Also sharing advice with the group of more than 400 students was Dillon Kunkle, a senior biology major and president of United Student Government.
"Among all of the aspects of your life during college, you are going to be asked to give more of what you have and dedicate more time than there is in a day, but that's the point," he said. "You have to take part and actively participate. Welcome, Class of 2017."
Convocation Photos
More About: Downtown Pittsburgh, First Year Frenzy, Convocation