more news
Point Park Welcomes Holy Family Academy Students for Etiquette Luncheon
Thursday, July 31, 2014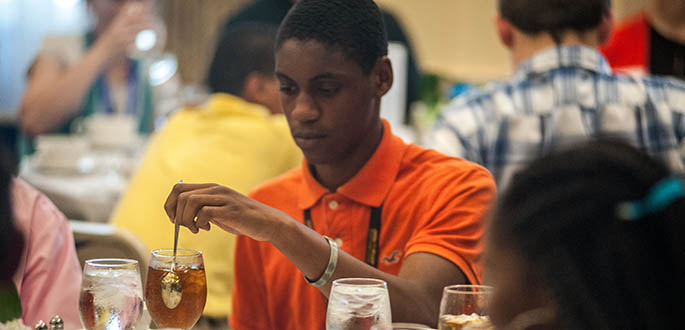 Holy Family Academy students learn the do's and don'ts of dining etiquette in the Lawrence Hall Ballroom. More photos.

For high school freshman Miracle Buggs, the chance to be on a college campus for the first time in her life was an experience she will never forget.
---
Related links
Undergraduate Programs
Visit Campus
Apply Online Free
Buggs and 67 of her classmates from Holy Family Academy - a new Catholic high school that will prepare economically disadvantaged students for a career - were invited to attend an etiquette luncheon at Point Park on July 9 in the Lawrence Hall Ballroom. Hosted by the Career Development Center, the goal of the luncheon was to provide training in etiquette, professional dress and public speaking.
"Our students go to school four days a week and one day a week they will go to work - as part of a corporate work-study program - to develop the skills they need to be workers of the future," said Sister Linda Yankoski, CEO and president of Holy Family Academy. "Our non-profit partners, such as Point Park, are providing in-kind services to our students and that's why we are here for the etiquette program."
Four Holy Family Academy students will return to campus during the fall semester as part of their corporate work-study program.
Angela Scaramucci, coordinator of employer relations for the Career Development Center, led the luncheon.
"I strongly believe in the mission of the Holy Family Academy and from a career development perspective, I think it's great that these students will be getting real-world experience during their high school years. Their experience will greatly help them as they decide on a college, a major or what industry they would like to pursue," said Scaramucci.
At the luncheon, the class of 2018 sat at round tables decorated with fresh flowers, neatly folded teal napkins and perfectly aligned place settings. The meal included a garden salad, red pepper tapenade chicken, green beans, fingerling potato hash and banana cream napoleon for dessert.
"It was so cool to get dressed up and attend the luncheon," said Buggs. "My friends and I had so much fun at Point Park."
Classmate Ryan Mastele agreed.
"Everyone at Point Park was really nice and welcoming to our class," Mastele said. "I learned how to eat properly in a formal setting and the food was good, too."
Added Scaramucci, "I was really impressed with the students, staff and faculty. I hope this lunch becomes a yearly tradition and that we will even see some of these students as Point Park students in the future."
Photo Gallery