more news
Professors teach mini-classes as part of Girl Scouts 100th anniversary celebration
Monday, August 27, 2012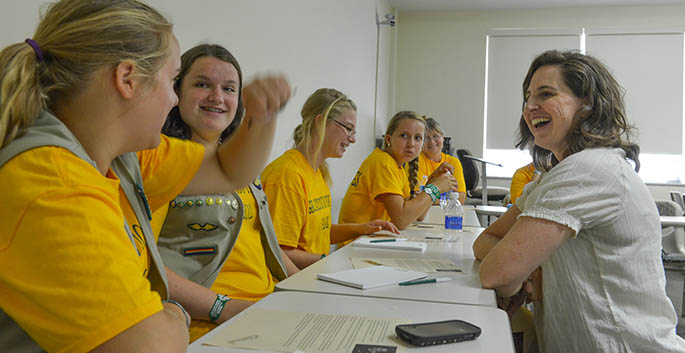 Jehnie Reis, visiting assistant professor of history, leads a mini-class discussion on "Strong Women in History" for girls taking part in Girl Scouts Western Pennsylvania's 100th anniversary celebration Aug. 18.
Rachel Halliday, 15, read confidently from the list of evidence she and her team of fellow Girl Scouts had gathered from Point Park University's crime scene house. As Edward Strimlan, professor and coordinator of Point Park's forensic science program, listened to her report, Halliday declared the case a staged suicide. And she was right.
Slideshow: Girl Scouts at Point Park
"CSI Pittsburgh" was one of four hour-long mini-classes offered by Point Park professors for more than 80 Girl Scouts on Aug. 18. The mini-classes were part of the Girl Scouts Western Pennsylvania 100th anniversary weekend that included a parade and other special programs throughout Downtown.
Point Park has taken part in the Girl Scouts centennial observances, including a celebration on campus Feb. 16, and was delighted to host the girls, ages 12-18, for the mini-classes.
"It was a lot of fun," Halliday, a Girl Scout ambassador, said of the crime scene investigation session. "I watch a lot of crime TV shows and this was very different and difficult, but we figured it out."
In her mini-class, Jehnie Reis, visiting assistant professor of history, introduced the girls to "Strong Women in History," such as Nellie Bly and Bessie Coleman, who have changed the world in the last 100 years.
"It was actually remarkably similar (to teaching college students,)" Reis said. "All of the girls were really engaged (and) wanted to be involved in what we were doing."
In her "Social Media" class, Heather Starr-Fiedler, associate professor of multimedia, led a discussion on the importance of Facebook, Twitter and other social media platforms and how they have revolutionized the way people connect.
Some girls headed outdoors with visiting professor of photography Stephen Grebinski for a "Cellphone Photographer" class to prove a camera does not have to be state-of-the-art to take a meaningful photo.
Senior Girl Scout Mira Swartwout, 14, was among the group capturing shots of the fountain in the University's Village Park.
"I really like Point Park's campus … and I'm so grateful to be able to be in the 100th anniversary," Swartwout said. "It's a once-in-a-lifetime chance and a wonderful experience."
Article by Richelle Szypulski, mass communication and multimedia major