more news
University Hosts Inaugural Graduate Student Conference with Capacity Crowd
Friday, April 20, 2018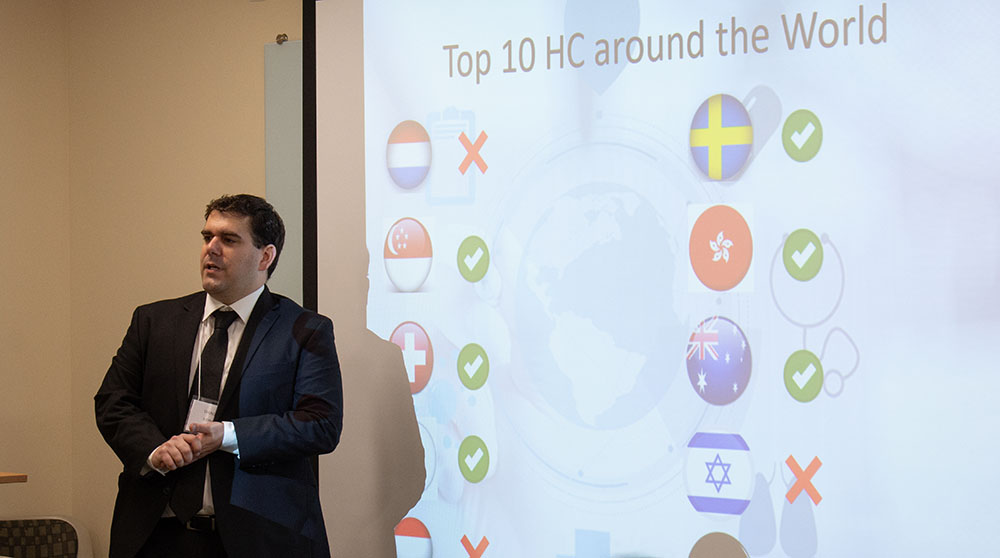 With more than 80 graduate students, faculty and staff in attendance, Point Park University's inaugural Graduate Student Conference April 14 exceeded expectations — reaching capacity three weeks before the event. 
The conference opened with a welcome from Assistant Provost Jonas Prida, Ph.D., followed by graduate student research posters and presentations on various topics from global economic inequality and community violence to social innovation and solar farm planning.
Participating in the conference were graduate students from a wide variety of disciplines including those pursuing master's or doctoral degrees in business administration, community engagement, education, engineering management, environmental sciences, health care management, leadership and administration and psychology.
Alumnus Billy Hartung '93 '08, executive director of The Center for Theater Arts, served as the keynote speaker. Hartung has written curriculum and taught acting and musical theater for the performing arts faculties of The Pittsburgh High School for the Creative and Performing Arts, the Carnegie Mellon University Pre-College Program and the Pennsylvania Governor's School for the Arts.
Following Hartung's keynote speech, Point Park President Paul Hennigan, Ed.D., and Rowland School of Business Dean Steve Tanzilli, J.D., presented the following awards:
Best Paper Award:  "The Impact of Community Engaged Racialized Conversations on Educational Planning for African American Students," Trish Gadson, Community Engagement Ph.D. doctoral student
Best Poster Award:  "Diversity Awareness Initiatives in Three Western Pennsylvania School Districts," Robert Kartychak, Jason Olexa, Laura Ward, Leadership and Administration Ed.D. doctoral students
In addition to presenters, all of the graduate students in the 21st Century Schools class taught by Vincenne Revilla-Beltran, Ph.D., attended the conference.
"Attending the conference helped me in a number of ways. I plan on teaching in the near future and a lot of the research presented dealt with issues in the education field. It also showed me what pursuing a doctoral degree would entail," said Casey Stevens, a M.Ed. secondary education student who graduated from Derry Area High School in Derry, Pa.
Stevens added: "I would like to return to Point Park to complete a doctoral degree and having the opportunity to talk with doctoral students offered me a lot of insight."
Faculty members Archish Maharaja, Ed.D.; Brent Robbins, Ph.D.; Yaser Roshan, Ph.D.; and Sarah Schulz, Ph.D., organized the conference along with several student volunteers. 
"It was a real pleasure working with Drs. Maharaja, Roshan and Schulz to realize this first Graduate Student Conference in the history of the University," Robbins said.
Hear From Graduate Student Presenters 
"I presented a portion of the research I conducted for my Ph.D. requirements. As the executive director of a nonprofit organization, I have a professional and personal interest in racial equity. Presenting at a university conference strengthens my curriculum vitae."
Trisha Gadson, Ph.D. in community engagement student
Executive Director, Macedonia Family Community Enrichment Center
---
"Besides winning the Best Poster Award (joking of course), I thoroughly enjoyed the discussions with the other graduate students. The conference was a great snapshot of the amazing graduate work Point Park students are engaged with daily."
Robert Kartychak, Ed.D. in leadership and administration student
Assistant Elementary Principal, Hopewell Area School District

---
"Our research topic came from our Cultivating Ethical Diversity course with Dr. Vincenne Revilla-Beltran. We blended our papers together for a diversity study of our three very different school districts, addressing the needs of each. This conference had us applying our knowledge and serving our professional communities. It was a tangible example of how we were fulfilling the mission statement of the University." 
Jason Olexa, Ed.D. in leadership and administration student
Principal, Brentwood Borough High School
---
"Point Park's philosophy of taking what we learn in the classrooms and applying it to our everyday lives was the driving force for our poster topic. This conference was a great way to showcase the diversity initiatives happening in school districts around the Pittsburgh area."
Laura Ward, Ed.D. in leadership and administration student
Librarian and English Teacher, Fox Chapel Area High School
---
"The Graduate Student Conference was the perfect opportunity for me to introduce my dissertation research to a large group of scholars for the first time. The atmosphere was one of engaging, scholastic camaraderie. It helped give me the confidence to branch out and present my research at more conferences and it allowed me to receive feedback to strengthen my presentation and research skills going forward."
Leatra Tate, Ph.D. in community engagement student
Girl Talk Project Coordinator and Health Advocate, Allies for health + wellbeing
---
Photos by Brandy Richey, junior multimedia major
More About: M.S. in environmental studies, community engagement, health care administration and management, graduate programs, M.A. in clinical-community psychology, Ed.D. in leadership and administration, M.S. in engineering management, education, Rowland School of Business, student presentations, research, M.B.A., graduate education, Psy.D. in clinical-community psychology, School of Arts and Sciences