more news
Winter 2016 Issue of The Point Magazine Now Online
Thursday, February 4, 2016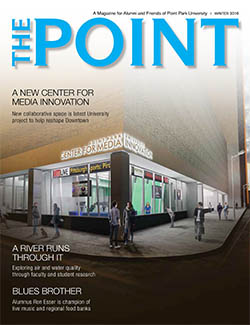 The Winter 2016 issue of The Point, the magazine for alumni and friends of Point Park University, is now available on campus and online:
Feature highlights and extras include:
Center for Media Innovation: a new incubator and collaborative space for the School of Communication is the latest University project to help reshape Downtown.
A River Runs Through It: Professor Matt Opdyke, Ph.D., leads students in environmental research on air and water quality.
Blues Brother: Journalism alumnus Ron "Moodog" Esser is a champion of live music and regional food banks.
40 Under 40: Point Park staff, alumni and students are well represented in Pittsburgh Magazine's annual recognition of outstanding young professionals.
Going Pro: Men's basketball alum and School of Communication senior Gabe McNeal is teaching kids to "Go Pro in the Game of Life."
Gifts at Work: Throughout the years, more than 1,000 students have benefited from more than 50 endowed scholarship funds.
Share your alumni news in a Class Note, or share your feedback and ideas at thepoint@pointpark.edu!
More About: Center for Media Innovation, alumni, student athletes, scholarships, journalism, faculty, biology, natural sciences, The Point, School of Communication