Student Center
Welcome to the Student Center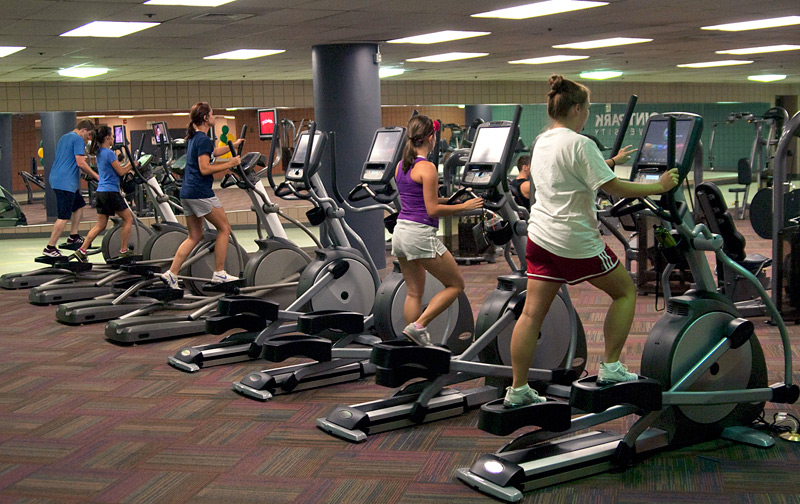 The Student Center is committed to providing the finest programs, services and equipment in order to enrich the University's recreational sports activities for students, staff and alumni. The Center offers a variety of facilities and spaces that include:
Recreational and lounge spaces with billiards, ping pong tables and dart boards
Fitness area with elliptical machines, treadmills, stationary bikes, indoor track (temporarily closed) and weight lifting equipment. The weight room area is currently only available to Point Park University athletes due to CDC and social distancing guidelines.
Meeting and conference rooms (booked through Conference and Event Services
The Student Center is open free of charge to all Point Park University students. Faculty, staff and alumni must purchase a membership. Point Park ID is required for entry.


COVID-19 Usage Policies
While the Student Center is open during the ongoing COVID-19 pandemic, all users must adhere to the following rules and regulations inside the building. These rules will be strictly enforced, and anyone not following these policies will have their access to the facilities limited.
Maintain at least 6 ft of distance between yourself and others.
Wear a mask (you may only pull it down or take it off while working out).
Wipe down all equipment you have used.
Cover your mouth and nose with your elbow or a tissue when coughing or sneezing.
Wash your hands and use hand sanitizer regularly.
Hours
Below are the Student Center's normal hours of operation. Times are subject to change for holidays and breaks.
Hours of Operation

| | |
| --- | --- |
| Monday | 7 a.m. - 11 p.m. |
| Tuesday | 7 a.m. - 11 p.m. |
| Wednesday | 7 a.m. - 11 p.m. |
| Thursday | 7 a.m. - 11 p.m. |
| Friday | 7 a.m. - 9 p.m. |
| Saturday | 11 a.m. - 7 p.m. |
| Sunday | 11 a.m. - 11 p.m. |
Current Point Park students have full access to the Student Center and its programs free of charge. Point Park University faculty, staff and alumni may become a member of the Student Center and access all of its facilities and programs. 
Membership Rates
Monthly Membership: $20
Memberships will become invalid on the first day of the new month.
The General Conditions of Use Waiver must be completed online prior to utilizing the Student Center. It is available on PointSync 
Membership fees waived from 5/1/19 - 9/1-19 for faculty and staff. General Conditions of Use Waiver must still be completed.
Please call 412-392-8024 for more information about Student Center memberships.
Recreation
Complete with a lounge area with TVs, billiards, darts and ping pong, the second floor is the perfect place to unwind between classes and in the evening. Equipment is available to be checked out at the fourth floor desk.
Billiards
Darts
Ping Pong
Fitness Center
The fourth floor is home to our fitness center with a variety of equipment to meet your strength training and cardio workout needs. The fourth floor is also home to our racquetball courts. Equipment includes:
Free weights
Indoor running track (temporarily closed)
Racquetball courts
Treadmills
Elliptical machines
Stationary bikes
Cable machines
Jacob's ladder
Stair master
Resistance bands
Medicine balls
Foam rollers
Basketball Court
Shoot some hoops with your friends! Basketballs are available to check out with your student ID at the fourth floor desk. 
Facility is for current Point Park University Students, as well as faculty, staff and alumni that have purchased a membership. Guests are not permitted to utilize the facility.
Use of equipment within the facility is at your own risk.
Report any injury or damaged equipment to 4th floor desk attendant.
Please re-rack your weights & return other equipment to its proper location.
Please wipe down equipment after use.
Music must be played through headphones, no speakers are permitted.
Dropping of weights and other misuse of equipment is prohibited.
Facility is not responsible for any lost or stolen property. Users of facility are encouraged to utilize the lockers available in the second floor locker rooms.
Facility may only be utilized during posted open hours.
Tobacco use prohibited.
Failure to adhere to posted rules & instructions of staff members may result in a loss of privileges.