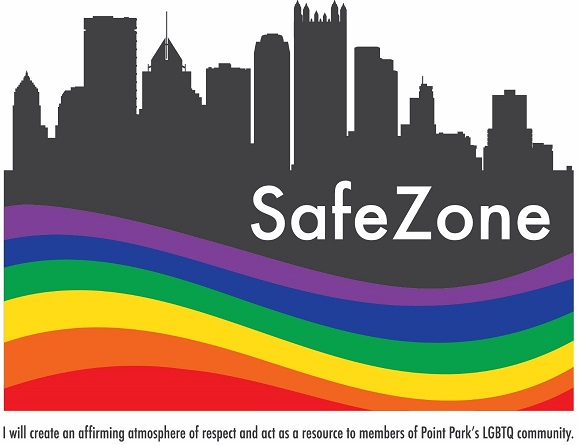 Mission
SafeZone provides training to faculty, staff and student leaders to help them become better allies to the Point Park LGBTQ+ community. SafeZone volunteers provide spaces where LGBTQ+ individuals are assured a comfortable place to learn about resources and ask questions about the LGBTQ+ community, gender, and sexuality.
SafeZone volunteers are not counselors, but they are available to provide support and connections to additional help both on and off campus.
Goals
SafeZone will provide training to faculty and staff to increase awareness and knowledge of LGBTQ+ issues, gender, and sexuality.
SafeZone will prepare faculty and staff to interact with members of the LGBTQ+ campus community in a positive, supportive manner and to provide referrals and resources as necessary.
SafeZone volunteers will create a visible atmosphere of support for LGBTQ+ individuals on campus by displaying the SafeZone logo in their work space or on a lapel pin and representing the program at student events.
SafeZone volunteers will work with Point Park University's Gender and Sexuality Spectrum Alliance to increase LGBTQ+ educational and social events on campus.
Stop in anywhere you see the SafeZone logo around campus.  SafeZone Volunteers are eager to assist you in any way they can.