SAEM HOME | COURSES | INTERNSHIPS | CAREERS | SAEM FACULTY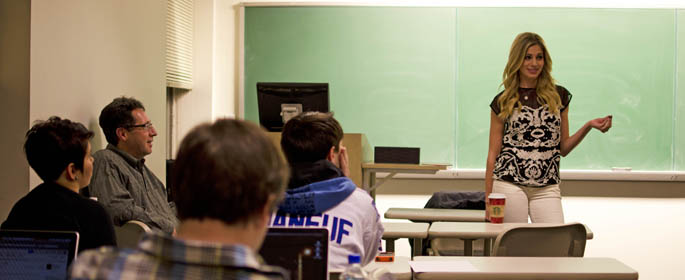 Country music artist Sarah Marince talks to students in the SAEM Recording Business class.
Connecting with Working Professionals in Sports, Arts and Live Entertainment
The student experience in the SAEM major is intense and conducted with high expectations. Every opportunity for working and networking with professionals — both regionally and nationally — is encouraged. 

For example, SAEM students attended the 20th Annual Performing Arts Managers Conference in New York City and traveled to Nashville for the Pollstar Live! Music Conference.
In addition, SAEM majors attend industry specific workshops and events on campus each semester. Here are a few examples:
In addition, SAEM students get hands-on, real-world experience co-hosting events like "Zoo U" with the Pittsburgh Zoo & PPG Aquarium and working for the Bon Jovi concert in Pittsburgh.
Can you get a job in this field? You bet!


Connect with SAEM on: