PROGRAM GUIDES | COURSE DESCRIPTIONS | FACULTY | SCHEDULE OF COURSES

Ballet Program
Selected Repertoire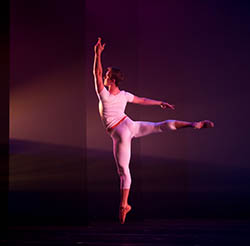 Selected repertoire in the ballet concentration:
George Balanchine's Valse Fantaisie, Raymonda Variations and Donizetti Variations™
Ruth Page's Bolero and Carmina Burana™
Marius Petipa's Raymonda, Sleeping Beauty, Paquita, Don Quixote, Swan Lake™
David Lichine's Graduation Ball™
Michael Fokine's Les Sylphides™
Lew Christensen's Con Amore™
A world premiere of Cinderella™
Perrot and Corallia's Giselle™
Students in the ballet program will receive a mix of professional instruction representing America and abroad, ranging from Vaganova to Balanchine. These diverse teaching styles will prepare you for the eclectic repertoire found in today's dance companies. The program consists of eight levels of ballet training, which allows students to be placed in the appropriate level based on technical ability.
Faculty members stress simple, clean execution, balancing necessary repetition with goals and progression. Using videotapes and performance footage, they'll visually reinforce the need for solid technique, which is followed by thoughtful discussion and analysis. The full-time faculty have worked at ballet companies around the world, and guest artists and choreographers regularly come to campus to conduct master classes and workshops.
Degrees Offered
Point Park offers a B.A. and B.F.A. in dance with a concentration in ballet. Learn more about the degree requirements and difference between the B.A. and B.F.A. programs.
Ballet Courses
You will receive a well-rounded education through the core curriculum and classes in your major. Some courses in the ballet concentration include:
Ballet Technique
Body Alignment
Choreography
Classical Ballet
Dance Composition
History of Dance
Kinesiology
Male Technique
Pas de Duex
Pilates
Pointe
For a comprehensive list of program requirements and course descriptions, see the B.A. and B.F.A. program guides to the right, and the Conservatory of Performing Arts course descriptions.
Program Guides
Alumni
Alumni of Point Park's ballet program have gone on to work at companies across the country. Examples include:
Alvin Ailey II
Ballet Austin
Dayton Ballet
Eisenhower Dance Ensemble
Gainesville Ballet
Nashville Ballet
Nevada Ballet
Salt Lake Ballet Conservatory
Texas Ballet Theatre
Thodos Dance Chicago
Related links