Please note: 2019 registration is closed. Information and registration for 2020 coming soon.
International Summer Dance
June 17 to July 27, 2019

For more than 30 years, Point Park University's International Summer Dance program has welcomed talented dancers, teachers and musicians from across the country and around the globe. Be part of this rigorous program with celebrations of myriad cultures united by the love of dance.
International Summer Dance is a comprehensive dance program that specializes in all three styles: Ballet, Jazz and Modern.  The curriculum includes daily technique classes in ballet, jazz and modern, supplemented by Pointe and variations, male technique, pas de deux, tap, music for dancers, Pilates and yoga.  Evening rehearsals for six-week participants are directed toward three performances in the George Rowland White Performance Studio.
The program is open to students ages 10 or older. However, to live on campus in a residence hall, students must be at least 16 years of age.
What Make Us The Best!

State of the Art Studios with Grand Pianos
Marley Sprung Dance floors
Live Musical Accompanist for Ballet, Pointe and Modern classes
Faculty Featuring Nationally and Internationally Recognized Teaching Artists, Choreographers and Directors
 Opportunity for High School Juniors and Seniors to Audition for Artistic Admittance to Point Park's Conservatory of Dance
Certified Athletic Trainers from UPMC Sports Medicine On-Site
Full-range sound systems
Summer Dance is a six-week program, however, students unable to commit to six weeks can attend for three weeks. Resident Students cannot mix or choose which weeks due to housing availability.
SESSIONS
June 17 to July 27- six-week program - Performance
June 17 to July 6 - three-week program - No Performance
Residents will check in on Sunday, June 16 from 11 a.m. to 3 p.m.
Orientation for all students will be on Monday, June 17 at 9 a.m.
Commuters - Tuition & Fee - FULL PAYMENT is DUE Monday, May 6.

Six-Week Students 
Tuition:          $ 2,800 
Registration Fee:  $75
Total:            $ 2,875

 

Three-Week Students
Tuition:          $ 1,400
Registration Fee:   $75
Total:             $ 1,475
Residents - Tuition & Fee (Students living on campus) FULL PAYMENT is DUE Monday, May 14.

Six-Week Students 
Tuition:            $ 2,800 
Registration Fee:   $75 
Room & Board: $2,800
Total:             $ 5,675

 

Three-Week Students
Tuition:            $ 1,400
Registration Fee:    $75
Room & Board:  $1,400
Total:              $ 2,875
LIVING ON CAMPUS
The option to live on campus during the International Summer Dance program is available to students at least 16 years old. Students wishing to live on campus who are attending the three-week program must attend during  the first three weeks.
Each residence hall has multiple points of secure access to student living areas, such as keycards, access codes, and lock and key. International Summer Dance students stay in Conestoga and Pioneer halls.
Resident advisers (who are parents) live on campus to supervise the 16 and 17-year-old students. Each adviser is responsible for eight to 10 minors. Parents of participating students may apply to serve as resident advisers. A limited number of positions are available.
Facilities
International Summer Dance features 10 state-of-the-art, air-conditioned studios equipped with Marley-covered sprung floors, pianos, and full-range sound systems.  The student lounge, cafe and library are open to participants.  Residence hall accommodations, laundry facilities, and the dining hall are located near the studios.  Two resident advisors supervise each residence hall floor and facilities are monitored.
Contact Information: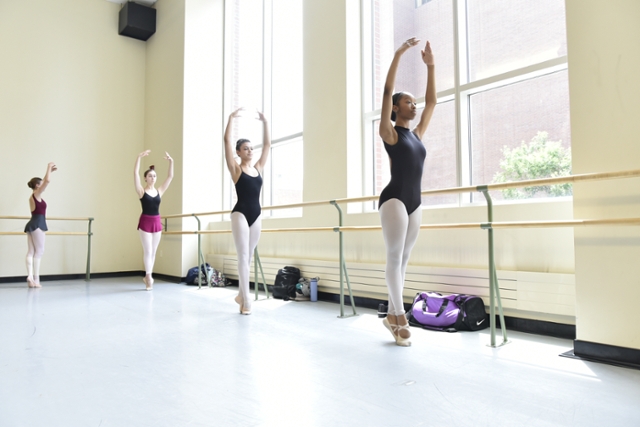 Office: 412-392-3456
Email: summerdance@pointpark.edu

Address:
International Summer Dance,
Point Park University
201 Wood Street
Pittsburgh, PA 15222-1984
---
CREDIT CARD PAYMENTS  - Please DO NOT TRY TO PAY unless you are a returning student and have a student ID.   If you are a new student, do not try to pay online until you have received a University ID Number/ account.  When making an online payment, choose the "Community Class/ISD" button.  The University accepts VISA, MasterCard and Discover Card and you will be charged a 2.55% service fee by the vendor for this service. The fee will be in addition to tuition charges. 
Payment by E-Check, your bank card (your checking account) will be available online at no cost (free service) to the payer.  Since the system does not inform us of your online payment or show up immediately, please email, fax or mail in a copy of your payment receipt.  Follow these steps: 
STEPS:

To pay online access PointWeb.
Select Guest Button
Enter ID# and Date of Birth
Click Community Classes/ISD Button
Enter Amount
Enter Payment Information
Mail or fax (412-392-3803) a copy of receipt to our office so we can update our records.