Courses & Topics
Courses in the M.Ed. in athletic coaching graduate program are based on the latest research in the field and illustrate what effective coaches should know, value and be able to do with athletes of all ages.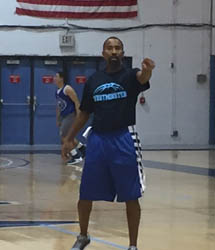 These courses include:
The Art and Science of Athletic Coaching
Safety and Physical Conditioning of Athletes I and II
Sports Psychology
Diversity and Ethical Responsibility in Coaching 
Administration and Financial Responsibilities of Coaching
Communication Skills for Athletic Coaches
Research: Contemporary Theory to Current Practice
Supervision and Evaluation of Athletes
Application-Based Practicum in the Field (Build/Enhance Your Portfolio)
Career Options
According to the National Bureau of Labor Statistics, athletic coaching is a field growing nationally, as well as locally, with recent surveys indicating that approximately 10,000 coaches and scouts are employed in western Pennsylvania.
Graduates with a Master of Education in athletic coaching will be prepared for coaching opportunities in various settings including:
K-12 public or private schools
Colleges and universities
Club and travel sports programs
Professional sports teams