Announcing the Rowland School Business at Point Park University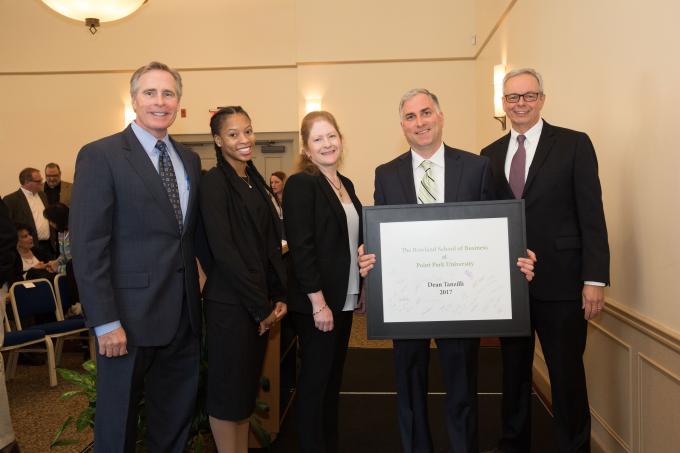 The Point
Spring 2017
Point Park has announced the naming of its School of Business to the Rowland School of Business, honoring the family of the late George and Kathleen White, the University's largest benefactors to date.
The formal announcement was made on campus on April 18, with academic leaders, administrators, faculty, students, and corporate and community partners in attendance.
The naming of the Rowland School of Business at Point Park University culminates the Whites' legacy of support and giving, which was established in 2014 with a more than $15 million bequest and the single largest gift in the University's history.
"George and Kathleen's dedication and advocacy for Point Park University continues to be an inspiration to all," said Paul Hennigan, Ed.D., president.
"Their generous gift - the $5 million endowment to the Rowland School of Business - will help support our continuing efforts to provide innovative, experiential learning opportunities for our business students. Indeed, we anticipate that the Rowland School of Business will be a national leader in business education," Hennigan added.
Related links
Rowland White, a role model for his family
George White's grandfather Rowland grew up in the late 1800s and became the owner of a small hardware store in Berea, Ohio. Although George never knew his grandfather, Rowland was recognized in the family as a role model for hard work, perseverance and business know-how.
His grandfather's legacy had a lasting impact on George, as he grew up to become a scientist, businessman and urban visionary. He earned several degrees, including a doctorate, and spent most of his career in industrial engineering.
After two decades with Xerox Corp. in product development and engineering, he transitioned to a career in higher education, with Harvard University and then the University of Pittsburgh Applied Research Center.
The latter position brought him and his wife Kathleen, a math and science graduate of Purdue University and a talented investor, to Pittsburgh.
"They loved the city's warm and friendly people and quickly adopted Downtown Pittsburgh as their home," said Carol White Shogren, George White's older sister. Both George and Kathleen served as Trustees of the University.
New vision, new energy
The importance the Whites placed on a business education continues to be a driving force at the Rowland School of Business said its newly appointed dean, Stephen Tanzilli, J.D. "The Whites believed we were well-positioned to be leading business educators by leveraging our proximity to corporations, nonprofits and sports franchises, many of whom are located in Downtown Pittsburgh," Tanzilli said. "The Whites' advocacy for business, finance and accounting education is a foundation we take very seriously and continue to build on today."
In his role as dean of the Rowland School of Business, Tanzilli will have broad oversight of all academic programs, including informational technology, business management and accounting as well as the sports, arts and entertainment management program which includes such innovative learning efforts as a dedicated classroom at Stage AE on Pittsburgh's North Shore and the Pioneer Records label.
Along with these programs, the Rowland School of Business will continue to leverage the Whites' advocacy for accounting, particularly with regard to expanding diversity in the field. In 2011, a $1 million bequest by the White family established the George Rowland White Endowed Professor of Accounting and Finance and the Urban Accounting Initiative.
Both were catalysts for the University's annual hosting of an Accounting Career Awareness Program each summer, in conjunction with the National Association of Black Accountants, where minority high school students attend classes on careers in accounting and business, personal development and college preparation as well as meet and learn from mentors in the fields.
Innovative and experiential learning
One of the signature programs of the Rowland School of Business will be expanding its cooperative education effort. The cooperative education, or co-op program, emphasizes innovative and experiential learning that enables students to gain real-world, full-time, paid work experience while at the same time earning college credit.
"Our co-op program gives students a unique opportunity to dive into a real-world work environment and at the same time earn credit toward their degree," Tanzilli said.
The University is working with some 40 corporate partners to date and plans to expand the co-op program are well underway. Tanzilli added: "Reaction to the opportunities the program offers has been overwhelmingly positive."
Business student Amber Mole, a junior who is participating in the new co-op program by working at the international accounting firm PricewaterhouseCoopers, welcomed the attendees at the announcement event on April 18. "At Point Park, I have strived to build my professional [expertise] by utilizing my time in the classroom and through career development, and by serving in student leadership positions," said Mole.
"Taking advantage of these resources early in my college career has opened the door for networking, internship and scholarship opportunities," including the co-op at PricewaterhouseCoopers, she added. "I am excited for the co-op opportunity, and excited for the Rowland School of Business.
I am proud to be a Point Park Pioneer."
Text by Barbara Vilanova
Photo by John Altdorfer
The Point is the magazine of Point Park University