Be an Influencer in the Business Market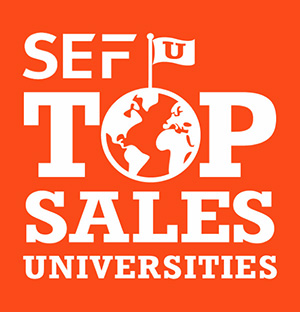 Marketing and sales professionals play particularly impactful roles within and for organizations. They often serve as the revenue drivers, influencers, awareness creators, researchers and connectors.
At Point Park University, our marketing and sales degree program — offered on campus or fully online — will teach you to research, identify and interpret data, as well as effectively present information, influence and negotiate in this growing career field.
Additionally, our campus location in Downtown Pittsburgh's business district will provide you with direct access to educational and professional opportunities including internships, co-ops and hands-on class projects with real-world clients.
Our program has partnered with DIRECT EFFECT®, and we offer hands-on training with leading software, including the ability to earn various certifications before graduating.
Students also have access to the Michael P. Pitterich Sales & Innovation Center, which provides access to sales education and expertise. 
Earn Your Bachelor's and Master's Degree in Just Four Years
Beginning fall 2024, the Marketing and Sales degree program will offer an accelerated delivery time, making it possible to earn your bachelor's degree within three years and a master's degree in one year. Learn more here.
Whether you're pursuing your B.S. degree or a post-baccalaureate degree, Point Park's online programs are offered in a flexible format at an affordable cost. Online courses are 8 weeks long and are always offered asynchronously for your convenience. 
Online students have access to the same great benefits as those on campus:
Point Park faculty with real-world experience.
Small online class sizes for individualized attention.
A full spectrum of University resources.
A student success advisor offering support from application to graduation, who will guide you to successfully complete your degree.
Cohorts begin every eight weeks. Apply now!
Why Study Marketing and Sales at Point Park University
Concentration Options
Choose one of the following concentrations in our marketing and sales major:
Marketing management
Digital marketing
Professional sales
Early Start Master's Program
This degree program is included in our Early Start Master's Program, through which students have the option to take two core classes from one of our master's programs. This program enables students to earn a Bachelor's degree and a Master's degree from Point Park in as little as five years. Visit our Early Start Master's Program page for more information.
Michael P. Pitterich Sales & Innovation Center
As a marketing and sales major at Point Park, you will utilize to the Michael P. Pitterich Sales & Innovation Center, a state of-the-art facility located on the ground floor of West Penn Hall, home to the Rowland School of Business. The center supports Point Park's focus on career readiness, providing opportunities for engaging experiences from a real-world perspective. Students will use the center to expand and apply their knowledge while building skills and expertise as they prepare for career success. 
Point Park University
201 Wood Street
Pittsburgh, PA 15222-1984
Ready to learn more?