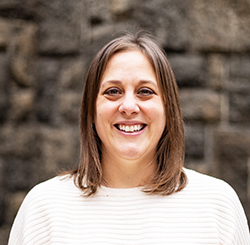 Lecturer, Education
Contact Information
Education
Bachelor of Science, Education, The Pennsylvania State University
Master of Education, Reading, Slippery Rock University 

Doctor of Philosophy, Organizational Learning and Leadership, Gannon University

 
Courses Taught
Differentiated Instructional Practices in the Inclusive Classroom
Special Education and Inclusive Practices
Human Behavior and Classroom Management
Building Family Partnerships
Differentiated Reading for the Developing Child
Positive Behavioral Interventions and Support
Evidence-Based Effective Instruction: Low Incidence Disabilities
Evidence-Based Effective Instruction: High Incidence Disabilities
Literacy and Learning in Middle and Secondary Schools
Technological Literacy for Education for the 21st Century
Research Methods I: Quantitative Methods
Background
Kristen Misutka, Ph. D., is a lecturer of education at Point Park University. Prior to joining the School of Education as full-time faculty, Misutka was an adjunct faculty member at Point Park and a teacher at Gateway School District. During her teaching career at Gateway, Misutka taught high school English for 10 years. Additionally, she taught special education at the middle school and high school level for seven years. 
Misutka's teaching philosophy emphasizes being a "student of your students," following Carol Ann Tomlinson (2017). She is committed to preparing educators to lead learners to succeed in a culturally diverse classroom.
Certifications
Certified Library Media Specialist
Supervisor of Special Education
English 7-12
Principal Certification
Reading Specialist
Mentally and/or Physically Handicapped K-12
Awards
Outstanding Student in Organizational Learning and Leadership, Gannon University, 2016
Publications and Presentations
"Organizational Leadership," in M. Dodds and J. Reese (Eds.) Sports leadership: A Reference Guide. Santa Barbara, CA: Mission Bell Media. 2015.
"Servant Leadership Survey Results and Discussion," CHESS Humanities Conference, Gannon University, Feb. 2017.
Point Park Features