Accreditation
Point Park University's Bachelor of Science degree programs in electrical and mechanical engineering are accredited by the Engineering Accreditation Commission of ABET (www.abet.org), the global accreditor of college and university programs in applied science, computing, engineering and engineering technology.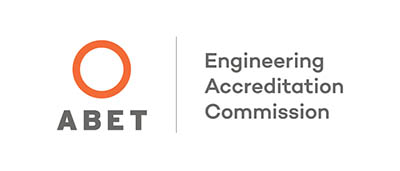 Courses & Topics
Students in the electrical engineering program gain a solid theoretical foundation of mathematics and science as the basis for their study of required technical courses in electric circuits, analog and digital electronics, linear systems and electrical power.
Additional breadth and depth are provided through advanced technical elective courses that allow upper-level students to specialize in two or more of the following areas:
Electromagnetics
Electrical power and power electronics
Control systems
Digital electronics and digital signal processing
Communications
All electrical engineering courses in this 131-credit program comprise both a lecture and a laboratory component. Extensive hands-on experience in laboratories equipped to industry standards ensures that graduates of the program are intimately familiar with current technical practices and are able to apply theory to real-world situations.
Building Professional Ties Through Real-World Projects
The electrical engineering program at Point Park culminates in a two-course senior design experience in which students form interdisciplinary teams to propose, build and document real-world engineering projects ranging from software applications to solar arrays.
Many of these projects are sponsored by local engineering firms such as Eaton and GAI Consultants, lending a high level of accountability and realism to the experience and helping students to build professional ties to potential employers.
View some of our engineering senior student projects.
Admission Requirements
In addition to meeting the general university admission criteria, applicants must meet the following program-specific requirements:
Mathematics courses: A minimum of three years (three units) of college preparatory mathematics in high school, including geometry, algebra and trigonometry and providing sufficient background for the study of a first course in calculus or a minimum of five semester credits of course work in college-level algebra and trigonometry, providing sufficient background for the study of a first course in calculus.
Natural science courses: A minimum of one year (one unit) of college preparatory physics or chemistry in high school or a minimum of six semester credits of introductory, algebra-based college-level physics or chemistry.
Grades: An average of B or better in the mathematics courses specified above and an average of B or better in the natural science courses specified above.
Students who are not prepared to take Calculus I during their first term can still be admitted upon review by the electrical engineering faculty with the understanding that they will need to take College Algebra (MATH 180) and Trigonometry (MATH 185) during their first year.
Transfer Credit

Subject to the review of the faculty, incoming transfer students may receive credit toward their degree for comparable course work taken at other institutions prior to matriculation at Point Park. Agreements with other local institutions also allow current Point Park students to register for courses that are offered elsewhere in the Pittsburgh area, giving them the opportunity to pursue subjects not taught on campus during a particular term.