Applications are now being accepted! Apply by March 23, 2021. 
Doris O'Donnell Innovations in Investigative Journalism Fellowship
Point Park's Center for Media Innovation to Relaunch $20,000+ Media Fellowship

The Center for Media Innovation at Point Park University  will relaunch the second year of its $20,000+ Doris O'Donnell Innovations in Investigative Journalism Fellowship on Tuesday, Feb. 9 after pausing during the early part of the COVID-19 pandemic.
"The pandemic has highlighted two conflicting truths about local journalism – the public wants and needs access to original reporting, and the newsrooms that generate that content are more fragile than ever," said Andrew Conte, director of the Center for Media Innovation. "The O'Donnell fellowship addresses these needs by helping local newsrooms tell enterprising stories in areas of the United States that remain largely uncovered."
The deadline for applications is March 23. The winner will be announced April 14.
With the goal of making an even bigger impact, the fellowship this year also will award second- and third-place prizes of $5,000 and $2,500. The fellowship is generously funded by the Allegheny Foundation.
The fellowship winner will have eight months to report and publish or broadcast stories. The honoree will be required to come to Point Park University's Downtown Pittsburgh campus to meet with students and attend a celebration of their work. If the ongoing pandemic does not allow an in-person visit, other arrangements will be made.
A panel of seven distinguished judges with credentials in innovative and investigative journalism will evaluate applicants based on value, innovation, engagement, diversity and ability.
"Right now, journalists have little spare time or energy to think about anything beyond their work and the daily challenges they're facing," Conte said. "We have made the application process as painless as possible, and it's our hope that these additional two weeks will make it even easier for journalists who need support."
Journalists and media outlets may apply beginning Feb. 9 through March 23. 



Meet the Judging Panel
A panel of five distinguished judges with credentials in innovative and investigative journalism return for a second year to evaluate applicants based on value, innovation, engagement, diversity and ability. That panel includes (in alphabetical order):
A former executive at The Wall Street Journal and New York Times who is now a visiting professor at Northwestern University, collaborating with colleagues at the Medill School on the Local News Initiative. She is the author of "The Expanding News Deserts," a major report that documents the decline and loss of local news organizations in the U.S.
A media correspondent for NPR News, and host and editor of On Point from NPR and WBUR, Boston's NPR station. His stories and analyses are broadcast throughout NPR's newsmagazines, including All Things Considered, Morning Edition and Here & Now.
A senior publishing editor at The Wall Street Journal. He spent time as editor of the Valley News Dispatch newspaper in suburban Pittsburgh and as business editor of the Pittsburgh Tribune-Review. Fraser also worked nearly two decades at The Associated Press in newsroom management roles and as a reporter and editor.
An investigative reporter for the Cincinnati Enquirer, she is part of the Pulitzer Prize-winning team at the Enquirer, where she also hosts the podcast "Accused," an award-winning true crime serial that reached No. 1 on iTunes and has 20 million downloads to date. She's written six books, including the New York Times bestseller "The Kennedy Wives."
A Pittsburgh-based staff writer for CityLab, a standalone website from Bloomberg Media that explores trends shaping our country's urban future, and captures the creativity and vibrancy of our increasingly urbanized world.
A former editor of the Navy Times, who covered the invasion of Iraq for the Pittsburgh Tribune-Review and was later deployed to Iraq as an Army guardsman. Prior to the Navy Times, he covered the military beat and breaking national news at the San Diego Union-Tribune. In 2012, Prine won an Investigative Reporters and Editors Award for "Rules of Engagement," a report on a 2007 incident in which U.S. soldiers shot three unarmed deaf Iraqi boys.
A contributor to The Wall Street Journal and RealClearPolitics, Washington Examiner reporter and New York Post columnist, as well as coauthor of "The Great Revolt: Inside the Populist Coalition Reshaping American Politics."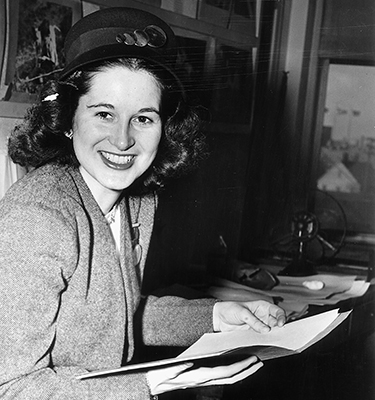 Photo provided by StoryWorks.tv.
About Doris O'Donnell
Doris O'Donnell, the namesake of the award, was a pioneering journalist who began her 50-year career during World War II for the Cleveland News.
She joined the Cleveland Plain Dealer in 1959, covering the Sam Sheppard murder trial that inspired "The Fugitive," and traveling to Dallas for the aftermath of President Kennedy's assassination and the Soviet Union during the height of the Cold War. O'Donnell was hired by Richard Scaife in 1973 to write for the Greensburg Tribune-Review. She worked there for 15 years before returning to Cleveland.
"Doris was a trailblazer for the generations of women in this business who came after her," said Sue McFarland, Greensburg editor for the Tribune-Review, who edited O'Donnell's work. "She fought long and hard to cover some of the biggest stories of her time, and erase the notion that some assignments were off-limits to many talented journalists based purely on their gender."