Doris O'Donnell Innovations in Investigative Journalism Fellowship
Marina Schauffler, Ph.D., an independent journalist based in Maine, is the winner of this year's $20,000 Doris O'Donnell Innovations in Investigative Journalism Fellowship from the Center for Media Innovation at Point Park University.
Schauffler proposed a "source-to-sink" analysis of the pathways that "forever chemicals" travel in Maine, where enduring synthetic per- and polyfluoroalkyl substances (PFAS) have created a complex contamination crisis. PFAS generated from consumer and industrial uses accumulate and persist in plants and animals, and cycle through water and waste systems — posing serious health risks. This project will offer a comprehensive look at the far-reaching scope and impact of these potential poisons.
"Maine has seen massive disruption among its local journalism sources, and currently has just two daily newspapers in the entire state," said Andrew Conte, Ph.D., director of the Center for Media Innovation. "This is the type of substantive investigative journalism that we are losing across the country as resources and news outlets continue to dwindle."
Schauffler plans to run a series of articles in The Maine Monitor, an independent, citizen-supported, nonpartisan journalism outlet run by the Maine Center for Public Interest Reporting.
"There's a pressing need for Maine – and the nation – to better understand the pathways by which PFAS travels, given its widespread use and disposal," Schauffler said. "As an independent journalist, I am especially grateful for the Doris O'Donnell fellowship, as it will give me the focused time to do the extended and interdisciplinary investigation this topic requires."
Second-Place Fellowship Award
Leila Barghouty, a supervising producer for The Washington Post, is the winner of the second-place fellowship award of $5,000.
Barghouty proposed a multi-part video series that would analyze body, dash and security camera footage obtained through public records requests and open sources to shine a light on the misuse of what is called "less lethal force." Barghouty has obtained hundreds of files of footage from dozens of counties across California as well as federal military and security forces that have been called during crises to manage civilians both domestically and abroad. The judges noted that Barghouty's focus would be on areas that do not have access to innovative, original reporting, such as California's Central Valley.
Third-Place Fellowship Award
Audrey Dutton, a senior reporter for the Idaho Capital Sun in Boise, is the winner of the third-place fellowship award of $2,500.
Dutton proposed a series that would examine how road construction in several states uses a "cheat to compete" system, which is facilitated by flawed federal regulations and a lack of oversight at all levels, and how it wastes taxpayer dollars and forces rank-and-file workers to break the law in order to keep their jobs. The Idaho Capital Sun is part of the States Newsroom network, which includes sister outlets in 25 states who share the mission of bringing coverage to underserved communities.
Fellowship Spotlights News Deserts
This marks the third year of the fellowship, which was designed to spotlight and take on the growing problem of underserved media markets known as news deserts. Since 2004, the U.S. has lost more than 2,100 newspapers, according to the UNC Hussman School of Journalism and Media. Thousands of counties across the country lack a daily newspaper, and many have no newspaper at all.
Schauffler will have eight months to report and publish or broadcast a final story or series of stories. In addition, she will come to Point Park University's Downtown Pittsburgh campus to present her findings and work with students.
Last year's fellowship winner, Sunnie Clahchischiligi, a contributing writer for Searchlight New Mexico, won the top prize with her proposal that investigated how potentially thousands of students on the Navajo Nation went missing during the pandemic and exposed myriad educational failures, which ran far deeper than the public knows. Clahchischiligi grew up on a remote homestead on the Navajo Nation near Teec Nos Pos, Ariz., and has worked in journalism for more than 15 years. Her resulting work was published in Searchlight New Mexico as well as outlets such as Rolling Stone and The Guardian.
Judging Panel
A panel of six distinguished judges with credentials in cutting-edge investigative journalism evaluated applicants based on value, innovation, engagement, diversity and ability. That panel includes:
Brad Bumsted, bureau chief of The Caucus, a watchdog publication based in Pennsylvania that focuses on state issues
Andrew Fraser, senior publishing editor for The Wall Street Journal
Jasmine Goldband '03, photo editor for the Houston Chronicle
Amber Hunt, investigative reporter for the Cincinnati Enquirer and host of the podcasts Accused and Crimes of the Centuries
Tory Parrish, business reporter for Newsday in New York
Guy Wathen, multimedia editor for the San Francisco Chronicle 
We're proud to share the work of our previous Doris O'Donnell Fellows. Their stories have made a tremendous impact on local journalism and among the issues and communities they covered. Below are their stories.
Year 2 First Place Fellowship Winner: Sunnie Clahchischiligi
Sunnie Clahchischiligi, a contributing writer for Searchlight New Mexico, proposed a project which investigated how potentially thousands of students on the Navajo Nation went missing during the pandemic and exposed a myriad of educational failures, which ran far deeper than the public knows. Clahchischiligi grew up on a remote homestead on the Navajo Nation near Teec Nos Pos, Arizona, and has worked in journalism for 15 years. 
Where have all the children gone?  
Education in the rearview mirror
Year 1 First Place Fellowship Winner: Erica Hensley
Erica Hensley is a public health and data reporter covering the Deep South with a particular focus on health equity in Mississippi, Alabama, and Georgia. Her project focused on unreported lead exposure in the Mississippi Delta and the resulting impact on the health of its residents. She freelanced and worked as an investigative reporter for Mississippi Today. Now she covers health at the global nonprofit, The Fuller Project.
How many Mississippi kids are poisoned by lead? Massive undercounts, inconsistent testing provides officials few answers
Mississippi's childhood lead exposure interventions don't do enough for kids
Tap water could be linked to dangerous lead levels in Jackson's kids. Mississippi isn't keeping track. (includes the first-ever map overlapping childhood "blood lead levels" and water tap test results showing lead)
Just one program in the state has helped remove lead paint for high-risk families
Year 2 Second Place Fellowship Winner: Laura Corley
Laura is a freelance reporter from Coastal Georgia's The Current. She investigated the toxicity of the waterways near Brunswick, Georgia, where tons of toxic waste was dumped by factories for decades. The Gullah Geechee people, descendants of enslaved Africans, are among the most affected. Corley's work provided clarity about the public health threat of the toxins, revealed the political lobbying that has kept them unregulated, and hopes to inspire legal changes to hold companies and officials to account.
STORY COMING SOON!
Year 2 Third Place Fellowship Winner: Rich Lord
Rich is the economic development reporter/editor for PublicSource in Pittsburgh. Lord's project probed into "milking" by landlords in the Mon Valley, whereby landlords obtain properties as cheaply as possible, spend little on upkeep, dodge enforcement efforts, and churn through tenants using eviction to maximize profits.
Facing roaches, rodents, leaks and balky heat and fire alarm systems, fed-up tenants of PNC Bank's McKeesport complexes demand change  
'We can't sleep since then.' How faulty heating and a bullet meant months of conflict and heartache for one of PNC Bank's McKeesport tenants  
PNC tries to slow the housing market's 'runaway train' 
PNC Bank pledges to address 'completely unacceptable' conditions as officials demand changes at its McKeesport properties 
Hundreds of violations, few penalties: Allegheny County's health enforcers frequently inspected — but rarely fined — two McKeesport properties 
Expect the inspector: Unlike Pittsburgh, the state's No. 3 city examines every rental home —eventually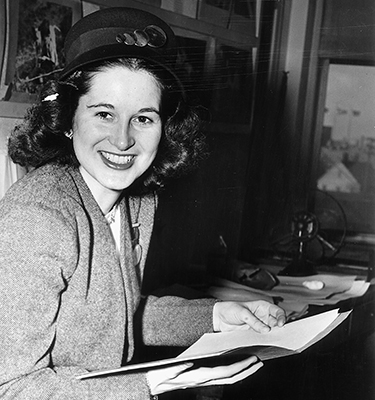 Photo provided by StoryWorks.tv.
About Doris O'Donnell
Doris O'Donnell, the namesake of the award, was a pioneering journalist who began her 50-year career during World War II for the Cleveland News.
She joined the Cleveland Plain Dealer in 1959, covering the Sam Sheppard murder trial that inspired "The Fugitive," and traveling to Dallas for the aftermath of President Kennedy's assassination and the Soviet Union during the height of the Cold War. O'Donnell was hired by Richard Scaife in 1973 to write for the Greensburg Tribune-Review. She worked there for 15 years before returning to Cleveland.
"Doris was a trailblazer for the generations of women in this business who came after her," said Sue McFarland, Greensburg editor for the Tribune-Review, who edited O'Donnell's work. "She fought long and hard to cover some of the biggest stories of her time, and erase the notion that some assignments were off-limits to many talented journalists based purely on their gender."