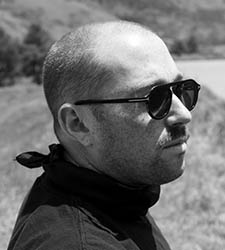 Lecturer of Photography
Contact Information
Education
M.F.A., Photography, Cranbrook Academy of Art
B.F.A., Photography/Computer Imagery, Shepherd University
Courses Taught
Advanced Photography
Black and White Photography I, II
Commercial and Editorial Photography
Constructed Still-Life Photography
Experimental Video
Graphic Design I
Introduction to Digital Photography
Performance Art
Photography for Non-Majors
Photography, Identity and Responsibility
Self-Publishing: The Photobook
Senior Thesis I, II
Studio Photography
Background
Ben Schonberger is a visual artist and lecturer of photography based on the North Side of Pittsburgh. Utilizing photography, appropriated imagery, collage, performance and sculpture, his work examines the complexities of identity through longterm social investigations and archive augmentation processes.
Schonberger has exhibited his projects nationally and internationally. His work is part of public and private collections including The Detroit Institute of Arts Department of Prints, Drawings and Photographs and The Toledo Museum of Art. His self-published photobooks can be found in the MoMA Library, The Cleveland Museum of Art Library and The Arts Library at Yale University. 
Professional Affiliations
Associated Artists of Pittsburgh, member
The Aperature Foundation, member
Society for Photographic Education, member
Research Interests
Studio art
Lens-based media and interdisciplinary projects
Photobooks and self-publishing
Selected Artistic Works
Solo Exhibitions
Beautiful Pig: Filter Space, Chicago, Ill. (November 2018)
Beautiful Pig: Phaze II Gallery, Shepherd University, Shepherdstown, W.Va., 2017
Beautiful Pig: Contemporary Art Toledo + River House Arts, Toledo, Ohio, 2016
HAMMER: The Muted Horn, Cleveland, Ohio, 2016
Group Exhibitions
Foam Talent: Frankfurter Kunstverein, Frankfurt, Germany, 2018
Foam Talent: Beaconsfield, London, England, 2018
Silver Eye Auction Preview Exhibition: Silver Eye Center for Photography, Pittsburgh, Pa., 2018
Foam Talent: Red Hook Labs, Brooklyn, N.Y., 2018
Where Light Goes: curated by Brian Carpenter, CVA Gallery, The University of Toledo, Toledo, Ohio, 2018. 
Selected Awards & Honors
Recipient: Greater Pittsburgh Artist Opportunity Grant, Pittsburgh, Pa., 2018
Foam Talent: Amsterdam, The Netherlands, 2017
Shortlisted, jury special mention by Anouk Kruithof, The Anamorphosis Prize, Old Greenwich, Conn., 2015
Shortlisted: The Paris Photo-Aperture Foundation PhotoBook Award: Paris, France, 2013
Point Park Features
In the News